New appointments strengthen design expertise and links with practice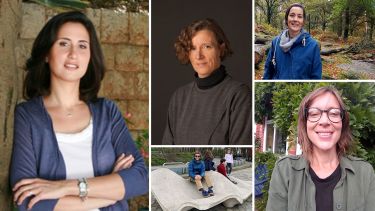 Drs Nayla Al-Akl and Bridget Snaith join the Department as Senior Lecturer and Lecturer in January 2022, from the American University of Beirut and University of East London respectively.
The two join Dr Jo Phillips, Frank Fitzpatrick and Catherine Higham, who have recently started as Studio Tutors, providing expert support to undergraduate and postgraduate teaching sessions.
Bridget — a chartered Landscape Architect and Design Council Advisor — is co-founder and Director of Shape Landscape Architecture, which specialises in the design of urban parks and landscapes for social housing, involving a high degree of community involvement and co-design.
She has taught alongside professional practice for 25 years in both Manchester and London, where she was course leader at the University of East London.
She said: "my research, inspired by my experience working with communities in London, investigates ethnicity, race and inclusion in public space." 
"My practice portfolio spans all scales from the regional — Shape authored a Framework document for the All London Green Grid — to the human scale — we hold a patented design for a modular bench in commercial production.
---
I love being amongst the vibrant and diverse student community, and contributing as part of a team to the design skills and professional development of the students.

Catherine Higham

Studio Tutor
---
Senior Lecturer Nayla was formerly Director of the Beirut Office of Landscape Architects SWA, as well as associate Dean of Student Affairs at the American University of Beirut.
She has worked on improving inclusion on University campuses, as well as providing leadership and support for women accessing student housing.
Nayla holds a Masters in Landscape Architecture from Harvard University's Graduate School of Design and has run the private practice Nayla Al-Akl Landscape Architecture since 2011.
Studio Tutor team
Nayla and Bridget join the three new Studio Tutors, recruited for their individual areas of expertise in planting design, fine art, design communication and professional practice.
Jo Phillips, Catherine Higham and Frank Fitzpatrick further strengthen a Studio Tutor team consisting of Jono Daniels, Amy Langron, Phil Gill, Charlotte Liu, Sophie Entwisle and Morag French.
With expertise spanning construction detailing, planting design, sustainable development and green space management, the Studio Tutors support undergraduates and postgraduates with expert advice and guidance across a wide range of modules.
"I am a practising artist & landscape architect; I combine landscape design consultancy work with my own art practice - primarily drawing and painting - and I have taught in the department since 2010 as a visiting tutor.  
In my teaching and practice, I would like to further investigate unconventional, experimental and artistic approaches to landscape architecture, exploring materials and processes of making, and the visual communication of ideas.
I love being amongst the vibrant and diverse student community, and contributing as part of a team to the design skills and professional development of the students.  I always learn a lot in return, too."
"As a fully chartered Landscape Architect I am looking forward to bringing my knowledge and experience of professional practice to the Department.
Over the past few years I have been involved in the teaching of various modules at Sheffield as an external tutor from Planit-IE. These have included LSC 330 Housing Design, LSC 5030 Urban Design, and LSC 6114 Landscape Urbanism & Design. I have also taught on the Construction Detailing module at Writtle College.
Since graduating from my masters at Sheffield in 2013 I have been involved in the design and delivery of a diverse range of projects that are reflective of the variety of modules taught over the course of the degree program."
"For the past ten years I have been, and I continue to be, an associate lecturer in Landscape Architecture at Manchester Metropolitan University. I have been teaching landscape research, history and theory, but my main specialism is in planting.
My research interest is around human engagement with plants, wild nature and rural landscapes. At Sheffield I hope to contribute a process-based appreciation of vegetation that celebrates the wild and the tame"