Now online: Proposals for Hopeful Places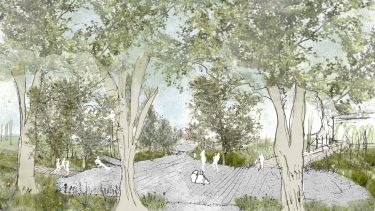 The catalogue – which is designed to showcase the work of students graduating from the BA, BSc, MLA and MA Landscape Architecture courses, MA Landscape Management and the dual honours Architecture and Landscape course – takes the place of the annual exhibition and provides a platform for students entering the landscape profession.
Proposals for Hopeful Places was officially launched on Wednesday 8 July, in an online event and prize-giving ceremony, hosted by Professor Anna Jorgensen.  
Landscape Architecture - integrating understandings of people, planet and places - continues to be the most effective way of visioning a better way of living. The pandemic has exposed our need for a healthy environment to ensure our continued survival.

Professor Anna Jorgensen

Head of Department
£2250 worth of prizes were awarded to outstanding students, thanks to the continuing support of sponsoring practices.
Professor Jorgensen said: "The catalogue presents snapshots of the culminating projects produced by our final year undergraduate and postgraduate students. Huge congratulations to them - and all our students - for overcoming the considerable challenges posed by socially distanced, home and online working under Covid. Feedback from the profession suggests that online working has become the new normal, so our graduates should be well-prepared for practice."
"Heartfelt thanks to our friends in the profession, who support us and our students in many ways, including through the generous aponsorship of prizes at this difficult time. Thanks also to our dedicated academic and professional staff, who transitioned to online teaching delivery over Easter, and who have continued to support our students ever since."
"Landscape Architecture - integrating understandings of people, planet and places - continues to be the most effective way of visioning a better way of living. The pandemic has exposed our need for a healthy environment to ensure our continued survival."
"Let's use our collective skills and voices to press for a more just and sustainable approach to planning, designing and managing our landscapes."
2020 Prize Winners
Prize sponsor
Recipient(s)
The Wardell Armstrong Prize in Landscape Planning
Clarissa Smith
The Landscape Institute Design Excellence Award (Undergraduate)
Oliver Pike
The Landscape Institute Design Excellence Award (Postgraduate)
Alexander Lowenhoff
The Experimental Landscape Design (Undergraduate)
Casey Rutherford
The Experimental Landscape Design (Postgraduate)
Fumika Yoshimoto
AECOM Undergraduate Student of the Year
Abel McLinden
The Urban Wilderness Inspirational Planting Prize
Amy Lagnado
Jacob Pugh
The Sustainable Landscape Award (sponsored by Arcus)
James Earp
The Ares Prize for Excellence in Landscape Design
Phoebe Crompton
The LDA Design Prize for Most Creative Final Project
Aleksandra Slubowska
The Landscape Design Trust Management Prize
Pengcheng Zhou
The Michelle Bolger Expert Landscape Consultancy Prize
Bill Francis