Stormwater project scoops LDA Design bursary for third-year Ran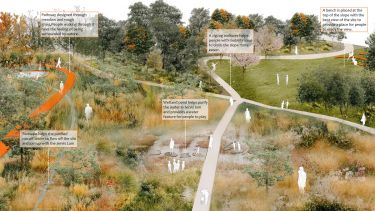 Ran was one of five winners of the prestigious student prize, open to undergraduate and postgraduate students of Landscape Architecture and Urban Design in the UK.
The challenge, now in its forth year, asked students to reimagine an in-between or 'forgotten' place in a large town or city, into a lively, well-connected environment.
Ran's design — Immerse yourself in nature — used sustainable drainage methods to transform Arbourthorne Field; a park in the south-east of Sheffield, dominated by a large, grass pitch and dense, under managed woodland.
Through a retention basin — containing a permanent body of water — and two detention basins, capable of filling and draining as needed, Ran's scheme minimised the risk of flooding from a nearby housing development, improved biodiversity and created a range of recreational spaces, inlcuding a community garden, picnic area, walkways, and football pitches with bleachers, to meet the needs of residents from different age groups.
Ran said: "when I found out I had won the LDA Design bursary, I was speechless! One of the jury members called to tell me just before Christmas. I went from confused to thrilled in ten seconds: it's definitely the best Christmas gift! I am grateful and honoured to LDA Design for granting me this award, and it's really exciting to have work experience with their team."
---
I'd like to say thanks to Mel Burton for the Ecological Design module, where I learnt a lot about how sustainable drainage works. This knowledge was really helpful for my project."

Ran Tao

BA Landscape Architecture
---
Ran credits her second-year module, Ecological Processes, Design and Management, with helping her develop the skills needed for her prize-winning project, as well as support from the wider Department of Landscape Architecture.
"I'd like to say thanks to Mel Burton and other tutors for the Ecological Design module they delivered in the second year. I learnt a lot about large-scale planning and management strategy for green space and how SuDS — sustainable drainage — works. This knowledge was really helpful for my project."
"I also would like to thank all the lovely academic and professional service staff in our department. I couldn't make it without their help throughout the past two and a half years!"
Previous winners of the LDA Design bursary from the Department of Landscape Architecture include Anastasia Starkey in 2022, Katherine Pears in 2021 and Ashleigh Davis in 2020.