Catherine Higham
Department of Landscape Architecture
Studio Tutor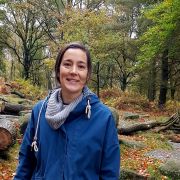 C.Higham@sheffield.ac.uk
Arts Tower
Full contact details
Catherine Higham
Department of Landscape Architecture
Arts Tower
Western Bank
Sheffield
S10 2TN

Profile

I am a practising artist & landscape architect; I combine landscape design consultancy work with my own art practice (primarily drawing and painting), and I have tutored in the Landscape department since 2010.  

Following ten years in private practise, in 2015 I made the move to become self-employed, enabling me to work more flexibly on my own art projects and landscape consultancy work.   My role has evolved to a more specialist position, and I am frequently commissioned to work at the front end of projects including creative site analysis, concept development, sketch design, visualisations and illustrations; often combining hand drawn graphics with digital media to express ideas. 

The materials, forms and processes of landscape, both natural and fabricated, are central elements of my art and landscape practice; land form, surface and space; water; vegetation; light; weather; built structures; habitats for humans/wildlife; time and change.  My art and design work often explores the interplay between form and non-form, figure and ground, precision and spontaneity, absence and presence.

In my teaching and practice, I would like to further investigate unconventional, experimental and artistic approaches to landscape architecture, exploring materials and processes of making, and the visual communication of ideas.

I love being amongst the vibrant and diverse student community, and contributing as part of a team to the design skills and professional development of the students.  I always learn a lot in return, too.
Teaching activities

LSC61001 Studio Project 1: Landscape Architecture: Nature, People, Place
LSC61002 Studio Project 2
LSC332 Integrated Project
LSC116 Space Making
LSC6005 Special Project

Previous modules I have been involved in include:

Art Practice & Landscape Design
Landscape Urbanism & Design
Landscape Planning
Media Tools & Communication
Professional activities

Chartered Member of the Landscape Institute
Member of Sheffield Creative Guild