Place, Inclusion and Equity
Belonging is contested. Spaces that seek to be inclusive can also, through their design, exclude.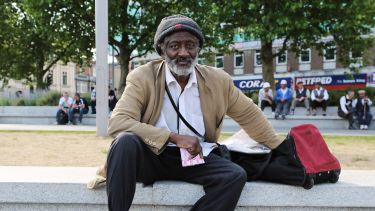 Off
The Place, Inclusion and Equity research cluster is dedicated to promoting environmental equity and social cohesion.
Our research aims to shape culturally and socially inclusive places through landscape planning, design and management. We aim to understand how people's health and wellbeing, throughout their lives, can be both positively and negatively impacted by aspects of space and landscape.
---
Cluster members
---
Featured projects
The Bench Project
This research focuses on locations where people often 'hang out': the act of everyday sitting on a bench or low wall.
The project explored the stories of people using benches in public spaces and questions how they provide places for social interaction.
The research also explored aspects of confrontation and control: investigating, for example, how the removal of benches is at odds with understanding of mental, physical and social wellbeing.
---
Reflecting on the river
Many cities have developed on and around rivers as they are important elements for transport, trade and fishing.
There are multiple perspectives and narratives of rivers which may differ over time as cities become increasingly urbanised.
This project aims to deepen understandings of the cultural role of the river for residents in urbanising India. It will reflect on the role of the river as cultural heritage and as a setting for cultural practices.
---
Plot based urbanism
Plot-based urbanism is a new way to approach urban design.
Instead of large, homogenous developments, plot-based urbanism advocates the small plot as key to sustainable urban growth.
By viewing the city as a connected series of small, individual plots, which will allow a greater variety of development to take place, plot-based urbanism aims to create cities which are both more sustainable and democratic.
---
Seminar series
The Place, Inclusion and Equity research cluster seminar series will present the research profiles of the each member of the cluster as well as provide space for discussion and development of ideas.
The seminars may be of particular interest to postgraduate research students.
Downloads
There's Always The River: Social and Environmental Equity in Rapidly Urbanising Landscapes in India (PDF, 257KB)
Nature: Jekyll and Hyde of children's environments? (PDF, 631KB)
Centre for Socially Restorative Urbanism: a manifesto for change (PDF, 1.0MB)
Urban Design, Quality of Life and Pro-Environmental Behaviour (PDF, 242KB)
---
Affiliated PhD students

Wafa Al Madani

Wan Azlina Binti Wan Ismail

Linyan Dai

Ebru Ersoy

Farnaz Ganji

Hao Lei

Alison Lowe

Maryam Mani

Mahsa Mohajer

Jinvo Nam

Adetoyese Oyedemi

James Simpson

Pai Tang

Kaeren Van Vliet

Goran Vodicka

Megan Waller

Junfang Xie

Qin Xu

Youmei Zhou
---
Collaborators
Some of the organisations who have collaborated in Place, Inclusion and Equity research are: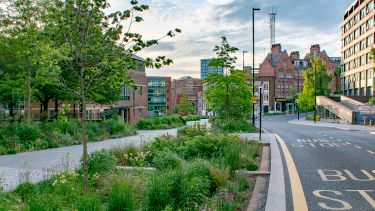 Champions of Landscape Architecture
As the UK's only independent department of Landscape Architecture, we are passionate about the power of our profession to address pressing global issues.
Flagship institutes
The University's four flagship institutes bring together our key strengths to tackle global issues, turning interdisciplinary and translational research into real-world solutions.