Migration Research Group launch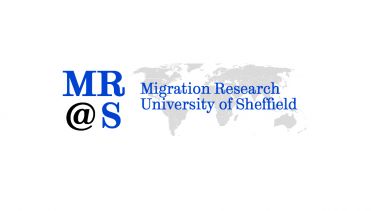 ---
Description
Launch Symposium: Patterns and Pathways in European Union Migration and Mobility since 2004
 
MRG launch symposium programme:
9.30am - 9.45am Registration

9.45am – 10am Welcome and Introduction
Gill Valentine (Pro Vice Chancellor for the Social Sciences, University of Sheffield)
Andrew Geddes (Politics, University of Sheffield)
10am – 11.45am New dynamics of European migration?
Chair: Paul James Cardwell (Law, University of Sheffield)
Izabela Grabowski (Centre for Migration Research, University of Warsaw), Pendulum-transnational-liquid migration nexus? Conceptual and methodological challenges.
Majella Kilkey (Sociological Studies, University of Sheffield) and Roxana Barbulesc (Sociological Studies, University of Sheffield), Crisis-influenced mobilities: the re-emergence of 'South'-'North' intra-European labour mobility.
Jon Fox (Sociology, University of Bristol), White and European? East European migrant workers in the UK
Anna Gawlewicz (Geography, University of Sheffield), Beyond openness and prejudice: The consequences of migrant encounters with difference and circulation of values and attitudes towards diversity
11.45-12 Coffee
12 – 1pm The Fourth Freedom: Theories of Migration in a 'Neo-Liberal' Europe
since 2004
Adrian Favell (Sociology, Sciences Po, Paris)
Chair: Nicola Phillips (Politics, Sheffield)
1pm - 1.45pm Lunch
1.45pm – 3.15pm Power and inequalities in European mobility and migration
Chair: Genevieve LeBaron (Politics, University of Sheffield)
Remus Anghel (Romanian Institute for Research on Minorities Issues, University of Cluj), Migration and Social Inequality. Changing social relations and patterns of inequality in Romania's Gypsy ghettoes
Owen Parker (Politics, University of Sheffield) and Oscar Lopez Catalan (Universitat Autònoma de Barcelona), Free movement for whom, where and when? Roma EU citizens in France and Spain.
Mark Payne (Education, University of Sheffield), An exploratory study of the social, linguistic and educational integration of Roma Slovak children into secondary school education in the UK: a case study of pupils in a Sheffield school
3.15pm - 3.30pm Coffee
3.30pm – 5pm New directions in European migration and mobility?
Chair: Andrew Geddes
Willem Maas (York University, Canada), Free Movement and EU Citizenship's Political Project
Roxana Barbulescu (Sociological Studies, University of Sheffield), From international migration to freedom of movement and back. Post-enlargement transformations of European freedom of movement in Italy and Spain
Oleg Korneev (Politics, University of Sheffield), The EU and Internationalisation of Migration Policy-Making in the Post-Soviet Region
Will Somerville (Migration Policy Institute, Washington DC), Key emerging issues in European and EU migration policy
5pm – 5.15pm
Conclusions and future events
Events at the University
Browse upcoming public lectures, exhibitions, family events, concerts, shows and festivals across the University.