Migration-induced social change in Poland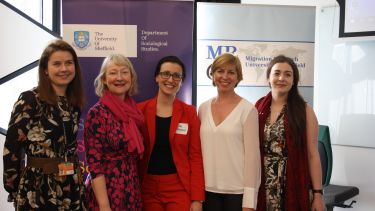 The second Annual Lecture of the Social Policy and Society Journal, sponsored by Cambridge University Press in association with the Noble Foundation. The lecture focused on 'Migration-Induced Social Change in Poland' and was delivered by Professor Izabela Grabowska from SWPS University of Social Sciences and Humanities in Warsaw.
To capture the impact of migration on a single, sending country (Poland in this case) is not an easy task. It requires that we disentangle the migratory outcomes from those of more general societal changes, happening retrospectively, in the present time and prospectively. This lecture will offer the methodological device of 'an inside-out' approach (White 2016), which suggests that migration needs to be analysed not as a forefront, isolated and individual process but complementary to the wide general societal trends and conditions. Special focus will be given to the grass-root social change, 'hand-made' by return migrants with the help of migratory social remittances as local forms of social and cultural diffusion (Grabowska et al. 2017). The lecture was based on the wide array of quantitative and qualitative data documented in the forthcoming book The Impact of Migration on Poland: Mobility and Social Change (with Anne White, Pawel Kaczmarczyk and Krystyna Slany, UCL Press) in which the Polish society is discussed in light of other 'new EU countries' of Central and Eastern Europe. The lecture took up some of the themes addressed in an article to be submitted to the Journal Social Policy & Society.