Professor Charlotte Burns
Department of Politics and International Relations
Professor of Politics
Director of White Rose Doctoral Training Partnership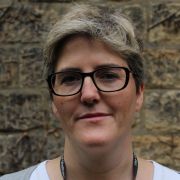 charlotte.burns@sheffield.ac.uk
+44 114 222 1703
Interdisciplinary Centre of the Social Sciences (ICOSS)
Full contact details
Professor Charlotte Burns
Department of Politics and International Relations
Interdisciplinary Centre of the Social Sciences (ICOSS)
219 Portobello
Sheffield
S1 4DP

Profile

Charlotte (Charlie) Burns joined Sheffield as a Professorial Fellow in September 2017.

She studied a BA in Philosophy and Politics at the University of York, and an MA in EU studies at the University of Newcastle. She then worked for two years in Brussels as a research assistant for the Chair of the European Parliament Environment Committee before commencing a PhD in Politics at the University of Sheffield. She held an ESRC post-doctoral fellowship at Sheffield, a lectureship in EU politics at the University of Aberystwyth, an RCUK fellowship in democracy and governance at the University of Leeds before joining the Environment Department at the University of York, where she was made Senior Lecturer in 2015.
Research interests

I am interested in the factors shaping environmental resilience in the face of external challenges. More specifically - what puts environmental policy goals at risk and what enables them to withstand change and be resilient? My background is in studying decision-making and EU environmental politics and policy, with a specific focus upon the European Parliament.

Since 2013 I have been working on the implications of EU membership or UK and EU environmental policy. I have been a research leader for the UK in a Changing Europe programme focussing upon environmental policy. I am co-founder and co-chair of the Brexit and Environment Network which brings together academics and stakeholders to deliver evidence and advice on environmental policy and politics in the UK.
We have given evidence to a range of parliamentary enquiries and have a well-regarded blog that can be accessed from our website. We won insight of the year from the Environmental News Daily service (ENDs) in 2016-2017 for our work on the environmental implications of Brexit during the referendum campaign.

Project website: www.brexitenvironment.co.uk
Twitter: @brexitenv

I am also currently a co-investigator on an ESRC Governance after Brexit grant led by Dr Ruth Little from the Department of Geography, which will analyse the future development of agri-environmental policies.

I have an on-going interest in the environmental behaviour of the European Parliament, EU environmental policy and EU decision-making. I am working a range of publications on the challenges and constraints faced by the Parliament in the exercise of its environmental prerogatives.
Publications

Journal articles

Chapters
Research group

I have been involved in supervising eight students. I am keen to supervise students interested in EU or UK environmental policy, EU decision-making, environmental policy and EU subjects more broadly.
Teaching activities

I am an enthusiastic teacher who is committed to making teaching and learning accessible and fun, using real-world examples to bring the subject to life. I like to use role-play and policy analysis to help to explain the issues that policy-makers can face in trying to navigate complex policy problems and environments.

I am not currently contributing to undergraduate and postgraduate teaching in the Department, but will make some guest appearances. I am available for PhD supervision.
Professional activities

Charlie is on the editorial boards of the Journal of European Public Policy, and Environmental Politics. She sits on the University Postgraduate Research Committee and the Faculty of Social Science ESRC Peer Review panel.