Dr Matt Sleat
Department of Politics and International Relations
Reader in Political Theory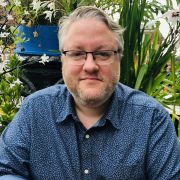 m.sleat@sheffield.ac.uk
+44 114 222 1692
G55, Elmfield Building
Full contact details
Dr Matt Sleat
Department of Politics and International Relations
G55
Elmfield Building
Northumberland Road
Sheffield
S10 2TU

Profile

Dr. Matt Sleat joined the Department in 2007 and is currently a Reader in Political Theory.

He works on and has published widely across three main research areas: realist political thought, liberal philosophy and international relations theory. His current research project explores the challenges to truthfulness and its ramifications for contemporary political life. He is author of Liberal Realism: A Realist Theory of Liberal Politics and editor of Politics Recovered: Essays on Realist Political Thought. His work has been published in journals such as Political Theory, Review of International Studies, Review of Politics, Political Studies, European Journal of Political Theory, International Politics, Social Philosophy & Practice, International Political Theory and Social Theory & Practice.

He has held visiting fellowships at the Australia National University, Queen Mary University of London, Kings College London and the University of Oxford. 

From 2014-17 he was editor of the European Journal of Political Theory, and since 2017 has been editor of Political Studies with Andrew Hindmoor, Hayley Stevenson and Charles Pattie.
Research interests

My research largely focuses on the following areas:

Realist Political Thought
Liberal thought and its Critics
Truth and Politics
Plato 
Nietzsche
Publications

Journal articles

Chapters
Research group

Recent supervision:

Andrew Leary - Realism and Egalitarianism
Carlo Cordasco - Rethinking Spontaneous Order: Norms, Institutions and Legitimacy (completed 2019)
Janosch Prinz – Political Realism and Critical Theory (completed 2015)

I would be happy to supervise research in the following broad areas:

Realist political thought
Contemporary liberal theory
Challenges to liberalism
Grants

British Academy Mid-Career Fellowship - 'The Ethics of Cyberwar' (January 2015 - December 2015)
Teaching activities

I currently teach the following module:

POL3123: Liberalism and its Critics'

In May 2012 I received a Senate Award for Excellence in Learning & Teaching, in the Early Career category.