Professor Ruth J Blakeley
Department of Politics and International Relations
Head of Department
Professor of Politics and International Relations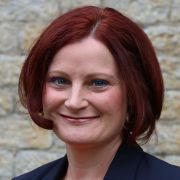 r.blakeley@sheffield.ac.uk
+44 114 222 8377
Elmfield Building
Full contact details
Professor Ruth J Blakeley
Department of Politics and International Relations
Elmfield Building
Northumberland Road
Sheffield
S10 2TU

Profile

Ruth Blakeley joined the University of Sheffield in 2017 as Professor of Politics and International Relations.

After completing an MSc and PhD in International Relations at the University of Bristol, her first post was as a lecturer in International Relations at the University of Kent. In 2015, she was promoted to Professor. She held several leadership positions at Kent, including Head of School of Politics and International Relations (2016), and Sub-Dean and Director of Graduate Studies for the Faculty of Social Sciences (2012-2015). She was appointed Director of the White Rose Social Sciences Doctoral Training Partnership at Sheffield from September 2017 to January 2020.

Professor Blakeley is the Vice Chair of the British International Studies Association (BISA). She was lead Editor of the Review of International Studies from 2016 to 2020. She is a member of the editorial advisory boards for several journals.

Professor Blakeley's research and teaching focus on international security, terrorism and political violence, and human rights.
Research interests

My research focuses on a range of issues across the areas of international security, terrorism and political violence, and the global governance of human rights. My interests include US power, imperialism, US and UK foreign policy, state violence and state terrorism, and torture. I am particularly interested in the relationship between the evolution of the international political economy and state violence. These interests lead me to frequently engage with questions on the potential of human rights norms and laws as vehicles for political and social change. My current research projects are:

Rendition, Detention, and Torture in the War on Terror

Ruth is co-director (with Sam Raphael, University of Westminster) of The Rendition Project. This provides the most comprehensive analysis to date of the CIA's Rendition, Detention and Interrogation programme.

Funded by an Economic and Social Research Council (ESRC) grant, research findings are disseminated through an extensive and innovative project website (www.therenditionproject.org.uk) that houses the world's only comprehensive database of flights known or suspected to have been involved in rendition. The aim now is to draw on this extensive empirical research on one of the most controversial state-led security programmes in the 21st century, to begin addressing pressing questions about the global governance of human rights.

Violence and Empire

This related project aims to explore the exercise of US and UK foreign policy in the years since the 9/11 terror attacks. The work focuses on the role of coercive power in US and UK efforts to shore up global capital, prising open and securing unfettered access to new markets. By exploring the various dimensions of the US and UK's use of violence since 9/11, we can shed new light on the interlocking of old and new imperialism. This, in turn, is creating new dynamics of power in the twenty-first century.
Publications
Research group

Ruth Blakeley welcomes applications from prospective doctoral students interested in pursuing research in her areas of interest. 

She is currently supervising the following students:

Jake Mason, The Political Economy of UK Stabilisation Operations (first supervisor).
Jana Fey, The Global Politics of Mental Health: Neoliberal Subjectivity in Anti-Stigma Campaigns (first supervisor).
Sabina Amidi, Women and Social Change in Egypt and Tunisia (first supervisor).
Elena Simon, Citizens in Camouflage: Rendering visible the production of collective violence in the everyday (second supervisor). ESRC funded.
Fran Sutherland, The Case for Qualitative Restitution of Iraqi Higher Education (co-supervisor). 

She has previously supervised nine PhD students who have successfully completed their PhDs.  
Teaching activities

My approach to teaching is aimed at equipping students to critically engage with the subjects under discussion. The courses I teach aim to introduce students to the importance of developing a detailed empirical knowledge of the subject, as well as acquiring the skills necessary for careful, theory-informed analysis.

Much of my teaching focuses on the use of extreme, covert violence by state agents. Therefore, early on, I introduce students to the challenges of undertaking research in areas where empirical data is often partial. I also encourage students to think deeply about the ethical implications of this kind of work.

My teaching is shaped by a commitment to excite and enthuse students about the topics under discussion, while at the same time challenging them to question their own assumptions.

I use a variety of teaching methods, all of which are aimed at encouraging a lively dialogue, whether in more traditional lectures, or more interactive seminars and workshops. I regularly use simulations to encourage students to adopt positions that they do not necessarily tend to embrace. Debating with students has always been a rich resource to challenge my own thinking, especially where students are well-prepared and enthusiastic about their learning.
Professional activities

Vice Chair, British International Studies Association 

BISA is a learned society that represents the UK-based community of International Studies scholars. It has over 1000 members, publishes two field-leading journals and a prestigious book series with Cambridge University Press, funds 25 specialist working groups, a lively postgraduate network and an annual conference. Ruth was elected as vice chair in January 2019 and will assume the Chair in January 2021. 

ESRC Strategic Advisory Network

Ruth was appointed to the ESRC's Strategic Advisory Network in April 2019 for a three-year term. The Network provides detailed expert support and advice, including on the design of strategies and funding schemes, investment management, pre- and post award, and interventions. She is currently on the Steering Group for the ESRC's Review of the Social Science UK PhD. 

UKRI Modern Slavery and Human Rights Policy and Evidence Centre Advisory Group

Ruth was appointed as a member of the advisory group in January 2020. This is a £10 million investment funded through UKRI's Strategic Priorities fund, the Centre will focus on prevention, victim recovery, supply chains and law enforcement. https://www.ukri.org/news/prime-minister-announces-cutting-edge-modern-slavery-research-centre/  

Journal Editorial Boards

Ruth is a member of the Editorial Boards for the following journals: International Affairs; Review of International Studies; European Journal of International Security; Critical Studies on Terrorism. 

Policy, Media and Public Engagement

 

Ruth has given evidence to government inquiries and consultations, including the Intelligence and Security Committee Inquiry into Detainee Mistreatment and Rendition, 2001-2010, and the Investigatory Powers Commissioner Consultation on Consolidated Guidance to Intelligence Officers and Service Personnel on the Detention and Interviewing of Detainees Overseas, and on the Passing and Receipt of Intelligence Relating to Detainees (2018). 

 

Her work has informed litigation on behalf of victims of rendition and torture in the European Court of Human Rights, the African Commission, and at the Military Tribunals at Guantanamo Bay.

 

She is advisor to theatre producer, Freda O'Byrne, on the development and production of 

Rendition

 by Edinburgh-based theatre company, Tragic Carpet. The immersive theatre piece was inspired by and draws on The Rendition Project's research, and received funding from Creative Scotland for a week-long run at the Roxy Theatre, Edinburgh, in March 2019. The piece was also performed at Sheffield's Theatre Deli as part of the 2019 ESRC Festival of Social Science. 

https://tragiccarpet.com/productions/rendition-2/

 

Her work has been widely covered in national and international media, and she has given many interviews, including to the BBC World Service and BBC Newsnight.