The best decision I've ever made
BA Applied Social Science
Georgiana talks about why she enjoyed University life and the friendly, supportive culture of the department.
Why did you choose your course at the Sheffield Methods Institute?  
It was the only course like it and it meant I could do a mixture of disciplines of social science because I was never sure on what I wanted to do. While I was applying to university I wasn't sure which subject I wanted to do, which is why the BA Applied Social Science course was the perfect choice. It was the only course of its kind which allowed me to do a mixture of disciplines of social science. 
What have you most enjoyed about your course?
I really enjoyed the small size of the department because I've been able to form great friendships with my peers and good relationships with the lecturers, meaning that I didn't just feel like a number or a statistic. In terms of what I've enjoyed studying, my favourite module so far has been SMI104 - Philosophy of Social Science. Even though it was one of the most challenging ones I have done, my lecturer Ross was able to make it such a great module. 
What has been the most surprising thing about your time at University?
What's been a surprise is how much I enjoy University life and how different my experience has been to others because of the course. I never thought that at University the tutors would be as supportive and caring as they are within the SMI department and I think this has changed how I perceive University and why I enjoy it so much.
What do you like most about the city and why? 
Sheffield's a great city! It doesn't even feel like a city at times, which for me gives a real homely feel to it. It's also very vibrant and there is so much to do.
Are you involved in any clubs or societies? 
I joined dance society and it's such a good way to exercise and meet new people, including students from other years at the University.
Do you have any advice for students thinking about studying your course?
It's the best decision I've ever made! I would definitely recommend this course, especially if you are uncertain in what you want to do like I was. It's helped me direct my focus and actually has allowed me to explore different options which I l have learned so much from, so much so the subject I was thinking of doing at university originally I didn't even take in my second year because it didn't suit me as well as I thought it would.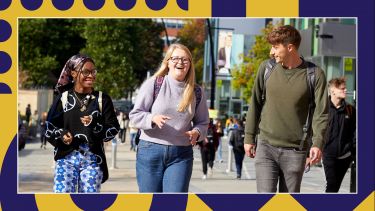 Advance Register for Clearing
We have places on our undergraduate courses this autumn. If you've already got your results you can apply now, or if you're still waiting for results get your name on the list by advance registering.