Dr Jo Britton
BA, PhD
Department of Sociological Studies
Senior Lecturer in Applied Sociology
Director of Postgraduate Affairs and Research
(She/her)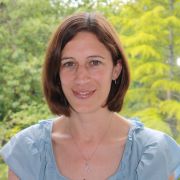 Profile

Jo first joined the Department of Sociological Studies in the mid-1990s as a postgraduate research student, having completed a Sociology degree at Liverpool University.

After completing her PhD, Jo worked in the Sociology Department at Manchester University as a Research Officer and then a Leverhulme Trust Research Fellow, before returning to Sheffield as a lecturer.
Research interests

Jo's research interests incorporate a number of key areas of sociological enquiry:

Theories of race and racism;
Theories of identity;
Muslim minorities;
Multiculturalism and citizenship;
Critical whiteness and 'mixed race' studies;
Inter-generational relations;
Qualitative research methods.

Jo has researched and written about the meaning and role of race, racism and identity in different contexts. She has a long-standing interest in Muslim minorities, focusing on changing gender and generational relationships in Muslim families, belonging and identity, and multiculturalism, cohesion and integration.

This has included researching the impact of child sexual exploitation abuse scandals on Muslim men. Jo's current research interests also include a focus on inter-generational relations and critical whiteness studies.

She has written about motherhood, whiteness and identity in mixed race families and was co-investigator on a research project exploring young and older people's understanding of generational positions and relationships.
Publications

Journal articles

Chapters

Book reviews
Research group

Jo welcomes applications to study for MPhil or PhD research degrees with her, either full or part-time, in any areas linked to the following broad themes:

Race and racism (including critical whiteness and mixed race studies);
Muslim minorities;
Identity.

Topics of her current and recent postgraduates include:

The Brexit vote's implications for dimensions of belonging among British-born white working-class residents in England
Exploring the lived experiences of South Asian Muslim lone mothers, intersectionality and the role played by South Asian organisations in their lives
A study of everyday multi-culture in North Manchester
Transracial adoption 
From farms to foundries: An Arab community in industrial Britain
Risk and resilience in the lives of British Somali youths.
Teaching interests

Jo teaches and supervise students at both undergraduate and postgraduate levels. All of her teaching is linked by a focus on examining patterns of social inequality and the operation of power and privilege in different social and political contexts.

Most of Jo's teaching is research-led as she believes that the theoretical foundations of her discipline are best explained using real-life, empirical examples.

Jo's aim across all of her teaching is to encourage students to develop a critical understanding of themselves as social actors who belong to a social structure and social order. In doing so, Jo also aims to provide students with the necessary tools to apply a sociological imagination to both their studies and everyday life.

Jo encourages students to engage with and evaluate a wide range of theories and evidence in order to appreciate the distinctive and far-reaching contribution of sociology.
Teaching activities

Jo currently convenes the following undergraduate modules:

SCS2005 Race, Immigration and Multiculturalism
SCS3021 Whiteness, Power and Privilege

Jo is also involved in the supervision of students taking extended essays and dissertations at undergraduate and postgraduate levels on the following modules:

SCS3001 Dissertation in Sociology
SCS3002 Dissertation in Social Policy
SCS3003 Extended Essay in Sociology
SCS3004 Extended Essay in Social Policy
SCS6330 Dissertation in Social Research

See our Undergraduate degree and Postgraduate taught degree pages.