Dr Michaela Rogers
PhD, MA, PgCAP, BA (Hons), FHEA
Department of Sociological Studies
Senior Lecturer in Social Work
(She/her)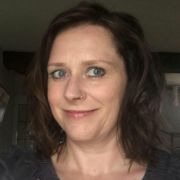 Profile

Michaela joined the Department of Sociological Studies in January 2019 as a Senior Lecturer in Social Work. Prior to that Michaela was a Lecturer in Social Work at the University of Salford for five years having joined the School of Health & Society on completion of her PhD at the University of Sheffield in 2013.

Before entering academia, Michaela enjoyed many years in social care and social work practice working in both the statutory and voluntary sectors. For the most part, Michaela's career in practice was spent working in the field of domestic violence and abuse, but she also worked in child protection, foster care, community development and with homeless young people.

Over the course of Michaela's academic career, she has taught across undergraduate and postgraduate programmes for social work and social policy as well as on the professional doctorate at Salford University. Since embarking on her academic career, Michaela has held a number of leadership roles including: Chair, Athena Swan Committee; School Lead, University's Women in Research.
Research interests

Michaela's research interests and publications are centred on several areas: interpersonal and gender-based violence and abuse; gender, trans and gender diversity; hidden and marginalised communities; multiple social exclusion; qualitative and narrative methods. Michaela has been involved in a number of research projects (both funded and unfunded).
Publications

Books

Journal articles

Chapters

Reports

Website content
Grants

2019 Improving referrals to IRIS from Practice Nursing Teams: an exploratory study. PI.

Sponsor: The Pankhurst Trust (trading as Manchester Women's Aid)
Awarded: £4,960

---

2019 Scoping exercise and evidence review: Parental Conflict. PI.

Sponsor: Sheffield City Council
Awarded: £12,889

---

2019 An evaluation of the Change Up LGBT Programme, PI

Sponsor: Social Sense CIC
Awarded: £3,000

---

2018 Ageing with Healthy Relationships, Festival of Social Science.

Sponsor: ESRC
Award total: £1,000

---

2018 Older people & Domestic Abuse: A workshop for practitioners, PI. Run in collaboration with Manchester Women's Aid

Sponsor: The University of Salford Research Impact Fund
Award total: £950

---

2018 An evaluation for the Change Up Programme, PI.

Sponsor: Social Sense CIC
Award total: £5,300

---

2017-18 An evaluation of the Green & Growing Project, Co-I.

Sponsor: Incredible Education/Inspiring Communities Together
Award total: £2,200

---

2017 Independent Living Scheme Evaluation, PI

Sponsor: Trafford Housing Trust
Award total: £8,866

---

2017 CHAMP evaluation, PI.

Sponsor: NHS Manchester University Foundation Trust
Award total: £60,000

---

2017 An evaluation of the Sahara Project, PI

Sponsor: Manchester Women's Aid
Award total: £5,000

---

2016-18 Post-Implementation Evaluation of the Part 2 Homelessness of the Housing Act, Co-I and Case Study Lead

Sponsor: Welsh Government
Award total: £98,000

---

2015-18 Older people and domestic abuse, PI

Sponsor: Vice-Chancellor's ECR Scholarship, the University of Salford
Award total: £2,000

---

2015-17 An evaluation of the Mental Health Recovery Programme, Co-I

Sponsor: Gardens Needs, Salford
Award total: £31,000

---

2015 Children's Workforce Development Training Programme,Co-I.

Sponsor: Sandwell MBC
Awarded: £60,000
Teaching activities

Michaela teaches across the portfolio of social work modules and courses. In addition, Michaela supervises PhD students across a range of fields in social care and social work broadly and she is particularly interested in projects in the following areas: interpersonal violence and abuse across the lifecourse; gender-based violence; domestic abuse; gender, trans and gender diversity; marginalised communities; narrative and qualitative methods.

Michaela welcomes applications and enquiries.