Professor Sarah Salway
BA(Hons), University of Oxford; MSc, PhD, London School of Hygiene & Tropical Medicine
Department of Sociological Studies
Professor of Public Health
(She/her)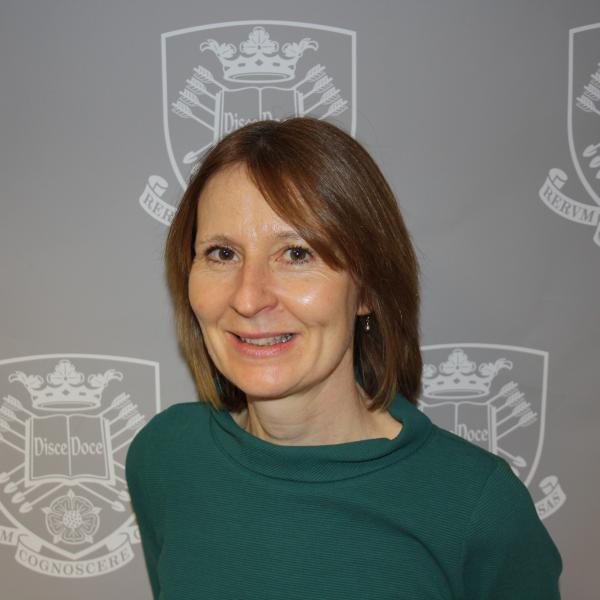 Profile

Sarah joined the Department of Sociological Studies in 2017, having previously been based within the School of Health & Related Research at the University of Sheffield from 2013. Prior to that, she worked at Sheffield Hallam University and London School of Hygiene & Tropical Medicine and spent extended periods of time living and researching in India and Bangladesh.

Sarah's work lies at the intersection of sociology, social policy and public health, with the aim of understanding and addressing the social and political determinants of health and wellbeing. Her work has particularly focused on health inequalities linked to migration, ethnicity and gender, and the processes of identification and in/exclusion operating at policy, practice and community levels that shape health-related experiences and outcomes. Her work also includes a focus on understanding the perspectives of service users and improving the fit between provision/initiatives and needs within complex systems.

A parallel body of work explores the ethics and science of researching race/ethnicity and health. Projects have focused on a range of health topics, particularly reproductive health. Much of Sarah's work involves close collaboration with statutory and third sector organisations, as well as partnerships with community-based groups and local people. Her research is international, with recent projects taking place in UK, Malawi, Ghana, Pakistan and Sri Lanka. Currently, Sarah is engaged in work under the umbrella of the national UK NIHR National School for Public Health Research.
Publications

Books

Journal articles

Chapters

Conference proceedings papers

Reports

Website content

Working papers

Datasets

Other

Preprints
Research group

Sarah has supervised 11 students to successful completion, including both UK and international students. She welcomes enquiries from prospective students interested in investigating the broad linkages between migration, race/ethnicity and health and the gendered influences on health and wellbeing. She is particularly interested to supervise projects focused on South Asia and/or British Asian populations, poverty and reproductive health. Sarah can support a range of methodological approaches.

Current students (based across Sociological Studies, ScHARR and AUPMC):

Christy Braham - Health navigators and migrant women's health needs (University of Sheffield fellowship).
Rebecca Mawson - General practice (primary healthcare) contributions to tackling inequalities in sexual and reproductive health.
Christie Garner - Children's perspectives on the Strengthening Families, Strengthening Communities Programme (In collaboration with the Race Equality Foundation; White Rose Doctoral Training Centre fellowship)
Natalie Bennett - Neighbourhood diversity and mental wellbeing (funded by NIHR School for Public Health Research)

To find out more about our PhD programmes, go to:
Studying for a PhD in Sociology
Grants

| Date | Sponsor | Details |
| --- | --- | --- |
| 2018 | Medical Research Council (Health Systems Research Initiative) | Scaling up the 24/7 Basic Health Unit strategy to provide round the clock maternity care in Punjab, Pakistan: A theory-driven implementation study. PI: Salway, S and Mumtaz, Z. CIs: Bhatti, A, Booth, A and Dawson, J. £780,000 |
| 2017 | National Institute for Health Research, UK (Public Health Research Funding Board) | How can loneliness and social isolation be reduced among migrant and minority ethnic people? PI: Salway, S. CIs: Booth, A, Preston, L, Victor, C, Such, E, Ragavan, R, Powell, K and Hamilton, J. £212,200. |
| 2017 | The Health Foundation | Supporting new migrants in primary care. PI: Such, E. CIs: Salway, S, Walton, E. £55,443. |
| 2016 | National Institute for Health Research, UK | School for Public Health Research. PI: Nicholl, J. CIs: Goyder, E, Salway, S, Meier, P, Brennan, A. £1.6 million. |
| 2015 | Canadian IDRC | Improving standards based maternity care in Malawi. PI: Chirwa, E. CIs: Mumtaz, Z, Salway S. et al. Ca$1million. |
| 2014 | Medical Research Council (Public Health Intervention Development Scheme) | Modifying a weight management intervention for people with intellectual disabilities. PI: Croot, E. CIs: O'Cathain, A, Salway, S, Harris, J, Hatton, C, Lanvin, J. £148,023. |
| 2014 | National Institute for Health Research, UK. (Knowledge Mobilisation Research Fellowship) | Mobilising knowledge about ethnic inequalities to improve access, experience and outcomes for Black and Minority Ethnic users of NHS services. Fellow: Carter, L. CI Mentors: Salway, S, Gerrish, K. £145,847. |
| 2014 | National Institute for Health Research, UK | CLAHRC Yorkshire & Humber Public Health & Inequalities Theme. PI: Goyder, E. CIs: Salway, S, Tod, A. £941,433. |
| 2013 | UK Department of Health (Policy Research Programme) | A study of knowledge, beliefs, and attitudes about Hepatitis B among Chinese and Far East Asian residents of South Yorkshire. PI: Vedio, A. CIs: Lee, A, Horsely, J, Salway, S, Goyder, E. £220,219. |
| 2010 | National Institute for Health Research, UK (Health Services & Delivery Research) | Towards equitable commissioning for our multi-ethnic society: understanding and enhancing the critical utilisation of evidence by strategic commissioners and public health managers. PI: Salway, S. CIs: Gerrish, K, Mir, G, Ellison, GTH, Whitfield, M. £348,100. |
| 2010 | Economic and Social Research Council (National Centre for Research Methods) | Promoting methodological innovation and capacity building in research on ethnicity. PI: Dale, A. CIs: Nazroo, J, Salway, S, Platt, L. £24,000. |
| 2009 | Canadian Institute of Health Research | Addressing disparities in maternal health care in Pakistan: gender, class and exclusion.. PI: Mumtaz, Z. CIs: Hamid, Lang, L, Shanner, Salway S, Zaman. Ca$450,000. |
| 2008 | Economic and Social Research Council | Patterns, predictors and implications of multi-morbidity: exploring the co-incidence of depression and other types of chronic ill-health.. PI: Salway, S. CI: Coy, J, Grimsley, M. £24,600. |
| 2007 | Joseph Rowntree Foundation | Ethnic diversity in social science research. PI: Salway, S. CI: Ellison, GTH, Gerrish, K. £82,000. |
| 2005 | Joseph Rowntree Foundation | Fathering in middle childhood among UK South Asians. PI: Salway, S. CI: Clarke, L., Chowbey, P. £104,000. |
| 2004 | Joseph Rowntree Foundation | Limiting illness, poverty and ethnicity: breaking the vicious cycle. PI: Salway S. CIs: Platt, L, Bayliss, E. £89,817. |
| 2000 | The Nuffield Foundation (Career Development Fellowship) | Bangladeshi households in North and South: a conceptual and empirical exploration of livelihoods and wellbeing. PI: Salway S. Mentor: Grundy, E. £76,813. |

 Selected consultancy and knowledge transfer projects

| Date | Sponsor | Details |
| --- | --- | --- |
| 2017 | Public Health England | Ethnicity and health in UK: technical support to an evidence review. PI: Salway, S. £5,000. |
| 2016 | Medical Research Council P2D and Public Health England | Modern slavery: the public health response. PIs: Salway, S, and Such, E. £14,735. |
| 2016 | Wellcome Trust | Review of diversity and inclusion literature and an evaluation of methodologies and metrics relating to health research. PI: Wilsdon, J, CIs: Salway, S, Booth, A, Preston, L et al. £45,270. |
| 2015 | Joseph Rowntree Foundation | Poverty and stress: review project. PI: Blank, L. CIs: Goyder,E Baxter,S, Salway, S, Bissell, P. £29,928. |
| 2015 | Sheffield Clinical Commissioning Group | Identifying promising innovations to enhance equity and efficiency in care for new migrant populations. PI: Such, E. CIs: Salway, S and Walton, E. £22,659. |
| 2013 | Sheffield City Council | Developing online training resource for health professionals and the public on consanguinity and recessive genetic disorders. PI: Salway, S. £4,000. |
| 2012 | Genetics Disorders UK | A participatory research study to develop a community genetic literacy intervention. PI: Salway, S. CI: Hussein, G., Ali, P. £23,124. |
| 2012 | NHS Sheffield | A community based survey of knowledge and attitudes related to infant health. PI: Salway, S. CI: Piercy, H., Ismail, H. £12,000. |
| 2011 | NHS Leeds | Cousin marriage and genetic risk: insight and development work.. PI: Salway, S. CI: Dearden, A, Ali, P. £16,500. |
| 2010 | NHS Sheffield | Exploration of factors contributing to lower revascularisation rates among Pakistani women in Sheffield: preliminary studies & proposal development. PI: Piercy, H. CI: Salway, S., Chowbey, P. £13,500. |
| 2010 | UK Department for Work and Pensions | A review of the experiences of clients of the Pensions, Carers and Disability Service from minority ethnic backgrounds. PI: Salway, S. CIs: Allmark, P., Crisp, D. £20,000. |
| 2010 | UK Equalities and Human Rights Commission | Scientific overview of health and life expectancy for the Triennial Review. PI: Salway, S. Allmark P CIs: Piercy, H. £24,560. |
| 2009 | Trent Research Development Support Unit | Increasing capacity in researching ethnic inequalities in health. PI: Salway, S. CI: Brewins, L., Dhoot, P. £14,500. |
| 2009 | NHS Bradford and Airedale | Development of a digital learning resource for cultural competence training. PI: Salway S. CI: Higginbottom, G. £4,000. |
| 2009 | NHS Sheffield | Evaluation of the Enhanced Public Health Programmes. PI: Salway S, Tod, A. CI: McClimens, A, Chowbey, P. £25,000. |
| 2008 | South Yorkshire Eating Disorders Association | Adapting Syeda's services to better meet the needs of minority ethnic communities: evaluation and feasibility study. PI: Salway S. CI: Chowbey P, Ismail, M. £3,600. |
| 2007 | NHS Bradford & Airedale | Documenting the experiences and insights of UK South Asian GPs in Bradford. . PI: Salway, S. CI: Higginbottom, G. £9,400. |