Dr Ysabel Gerrard
BA (Hons), MA, PhD (University of Leeds)
Department of Sociological Studies
Lecturer in Digital Media and Society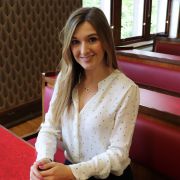 Profile

Ysabel joined the Department of Sociological Studies in 2017, having completed her PhD at the University of Leeds and spending some time as an Intern at Microsoft Research New England. In addition to her research, teaching, and administrative duties, Ysabel is also the Book Reviews Editors for Convergence: International Journal of Research into New Media Technologies (2018-ongoing), the Vice Chair of the European Communication Research and Education Association (ECREA) Digital Culture and Communication Section (2018-2020), and a current member of Facebook's Suicide and Self-Injury (SSI) Advisory Board. 


Ysabel was recently named as the lead academic contributor to Instagram's new policies on weight loss product and cosmetic surgery posts. Read more about her involvement here.

Ysabel's research interests are in:

Social media policies
Digital identities (particularly gender)
Feminist media theory
Digital research methods and ethics

She often talks to the press about her research and has appeared in venues like BBC Woman's Hour, BBC News, The Guardian, The Independent, NBC News, The Washington Post and WIRED.


Ysabel also currently leads the BA (Hons) Digital Media and Society programme and looks forward to welcoming growing numbers of students in the years to come. If you are a prospective student or parent/carer/teacher and have a question about the programme, please feel free to email her.
Research interests

Ysabel's research interests are in:

Social media policies
Mental health and social media
Digital identities (particularly gender) 
Feminist media theory
Digital research methods and ethics
Publications

Journal articles

Book reviews
Teaching interests

The modules Ysabel has designed and developed – Digital Identities and those about Digital Methods – draw on her own research interests and experiences.

For example, she has spent some time at the Digital Methods Institute at the University of Amsterdam learning about their tools and approaches to social media research (see https://wiki.digitalmethods.net/Dmi/DmiAbout), and at Microsoft Research New England thinking about how social media content gets moderated and policed (see: https://www.microsoft.com/en-us/research/lab/microsoft-research-new-england/).

She likes to incorporate aspects of students' own lives, experiences and identities into her teaching practices, particularly how they use and understand social media platforms through, for example, taking selfies, vlogging, online fandom, sexting, political organisation, and gaming.

She also encourages students to think about their privacy on social media, how they represent themselves, and how they use social media in different cultural, geographical, and legal contexts.

Previously, and at a different institution, Ysabel has taught:

The Ethics of Internet Research (MA dissertation);
Feminism, Identity and Media (third year);
Studying Media (first year);
Introduction to Communication Theory (first year).

She will happily chat to students about any of the above topics.
Teaching activities

Ysabel is the Programme Leader for the BA Digital Media and Society. She will be teaching the following modules in the 2018/19 academic year:

Semester 1

SCS3046/6089 Digital Identities (module leader)

Semester 2

SCS1022 Introduction to Digital Methods (module leader)
SCS1021 Digital Methods in Practice (module leader)

Ysabel also supervises BA and MA Dissertation students working on a range of topics.