Study in the Department of Sociological Studies and you will join a social science department with a proud and distinguished history.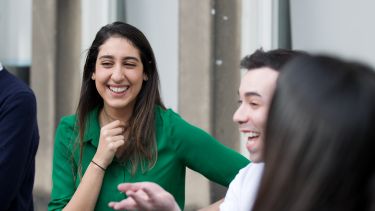 World-leading research and teaching
The department has an established international reputation for world-leading interdisciplinary research in relation to:
Ageing
Caring 
Digital society
Family and childhood
Research methods
Migration, race and multiculturalism
Science, technology and medicine in society
Surveillance
Our research and teaching has a direct impact on people, organisations and policymaking. The 2021 Research Excellence Framework rated 66% of our research activity as 'internationally excellent' or 'world-leading'. 
As a postgraduate student with us, you will be a key part of the academic culture of our department. We encourage our students to attend our regular research seminar series and join in other department events. These will enable you to make an important contribution to cutting-edge debates about the social world, addressing the key changes currently taking place within it and what those changes mean for societies in the future. 
---
Supporting your development
We are one of the larger and longer established social science departments in the country. You will undertake your studies in an academically rigorous and supportive environment, where we offer you excellent teaching on an enviable range of optional modules taught by experts in the field. You will also develop a range of valuable generic skills that will be much sought after by employers. 
Postgraduate careers and employability
---
The department are just incredible. They have been fantastic in my three years as an undergraduate, which was enough for me to want to continue here for another two. I haven't heard anyone talk about how a department are so student orientated than the Department of Sociological Studies; they genuinely want your time here at the university and in the department to be the most enjoyable.

Cameron Baker

MA Social Work student
---
I had such a positive experience the first time around that when I decided to return to education for postgraduate study, I never considered anywhere else other than Sheffield.

Laura Towers

MA Sociology graduate
Sociology Society
With over 250 members, Sheffield's Sociology Society (SocSoc) is one of the University's fastest growing societies. SocSoc is managed by students in the Department of Sociological Studies, to enable you to feel comfortable in your new department and meet lots of like-minded people. SocSoc organises a wide range of activities and events throughout the year, including the annual student ball, intra-mural sports, fundraising events and book sales.
A city like no other
Sheffield is a city of stunning landscapes. The greenest in Europe, it is creative, welcoming, stubbornly independent, rich in culture and history, but with a modern outlook and a million things to see and do.
There's all the buzz and stimulation of city life, but none of the stress. Instead, there's the friendly, laid-back feel of a village and some staggeringly beautiful scenery. In Sheffield, you get the best of both worlds.
A world-class university – a unique student experience
Sheffield is a research university with a global reputation for excellence. We're a member of the Russell Group: one of the 24 leading UK universities for research and teaching.