Since our early days, we have offered students a distinctly interdisciplinary experience, bringing together sociologists, social policy analysts and social workers under one roof.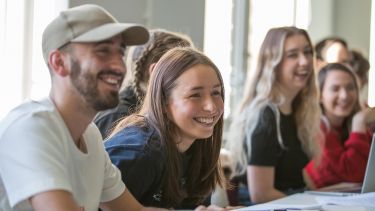 Research-led teaching
The Department of Sociological Studies has an established international reputation for world-leading interdisciplinary research in relation to:
Ageing
Caring
Digital society
Family and childhood
Research methods
Migration, race and multiculturalism
Science, technology and medicine in society 
Surveillance
Our research has a direct impact on people, organisations and policy making. Our academics' outstanding research feeds directly into your course, giving you a wider range of options to study. You'll develop the analytical skills to formulate solutions and you'll do work that really could make society better. What's more, our high quality teaching gives you a valued qualification that prepares you for your future.
---
Working creatively
We consider Sociological Studies as both an art and a science. As Digital Media is an omnipresent and increasingly influential aspect of contemporary society, students are encouraged to utilise various mediums to creatively explore sociological concepts, while demonstrating their understanding of the course. 

For International Women's Day 2020, our students created a series of vlogs to explore feminism and commemorate the day.
---
A welcoming community and environment
The Department of Sociological Studies is a friendly place to be, where staff and students work together in a supportive environment. We're based in the picturesque Elmfield building, where all our staff have their offices and some seminar and small-group teaching takes place. The University Sports Centre is just next door, and accommodation, the Information Commons and the award-winning Students' Union are all within easy walking distance.
As an undergraduate student, you will be a key part of the academic culture of the department. We encourage students to participate in our departmental events. These will enable you to make an important contribution to cutting-edge debates about the social world, addressing the key changes currently taking place within it and what those changes mean for societies in the future. Our departmental community incorporates staff and students from both local and global contexts, leading to a rich and varied undergraduate experience.
---
You will have an amazing time within a supportive department, completing a fantastic course. Enjoy every moment. If I could do it all again, I would without a second thought! You will LOVE it!

Jennifer Smith

Sociological Studies graduate
---
Where your degree will take you
A degree from us will give you a broad-ranging yet highly relevant qualification that will prove invaluable in whatever career you choose.
Our recent graduates have forged careers in public sector roles such as welfare and local government, to working in the private sector in management or research. A degree in sociology opens up a flexible career path by giving you valued skills and a strong intellectual calibre.
---
A city like no other
Sheffield is a city of stunning landscapes. The greenest in Europe, it is creative, welcoming, stubbornly independent, rich in culture and history, but with a modern outlook and a million things to see and do.
There's all the buzz and stimulation of city life, but none of the stress. Instead, there's the friendly, laid-back feel of a village and some staggeringly beautiful scenery. In Sheffield, you get the best of both worlds.
Explore the University
Discover why Sheffield is the right choice for you at one of our open days or events.