301 Academic Skills Centre provides training, resources and opportunities for you to develop the essential academic skills that will underpin your learning at University.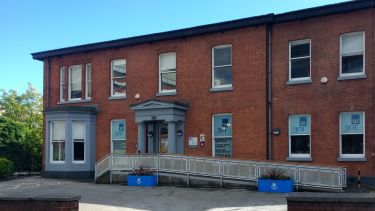 301 Academic Skills Centre is open to all students on all courses at all levels of study.
We provide a range of face-to-face and online resources and training to help you
progress with university-level study and become a successful independent learner
get ahead with assessments
plan, write and research for assignments, dissertations and projects
strengthen the numerical and statistical skills needed for studying and beyond
understand yourself as a learner and identify what strategies and techniques are best for you
301 offers support for the below areas.
---
301's Study Skills Service focuses on the skills you need to get the most out of yourself in your independent study and assessment. Training is provided in the below ways.
Study skills workshops
These cover a range of key areas, including academic writing, assessment and personal effectiveness.
Workshops take place on weekdays, either online or face-to-face at 301. They are facilitated by a specialist team of postgraduate student tutors.
Study skills 1:1 tutorials
These give you the opportunity to meet a tutor to discuss anything relating to your academic work.
Offering greater depth than is possible in a workshop, 1:1s can provide some specific and tailored advice, strategies and ideas to try out. 
Study skills online
This is our repository of digital resources to support all areas of your work.
Our study skills online pages are available pre-arrival, so please visit the pages and have an explore. Try out our digital mini courses, download templates, watch videos and much more. 
---
Maths and Statistics Help (MASH) offers free mathematics and statistics support to enable you to perform well during your time in Sheffield:
MASH workshops cover core areas of maths and statistics relevant to your learning, from A-Level maths refresher sessions to in-depth courses on using software such as SPSS and R. 
MASH 1:1 tutorials are one-to-one advice sessions that will help you look at particular issues you may be encountering, and consolidate your learning in mathematics and statistics.
MASH online maths resources and statistics resources contain lots of advice and guidance on common areas of maths and stats relevant to your course.
---
301's student research hub highlights opportunities to take part in undergraduate research through 301, the University and beyond.
This include the Sheffield Undergraduate Research Experience (SURE), which offers funded summer scholarships working in partnership with an academic on a dedicated piece of research.
We can also advise you on how to showcase any research you do during your time at Sheffield, through journals, awards, schemes and much more. 
---
Peer learning is an opportunity for students to come together in a relaxed environment to share knowledge and experiences.
Your peers are a great source of information relevant to a module, a course or to making the most of University life.
If you are hoping to set up a study or discussion group with students at the same level, or with students at higher levels who have gained relevant experience, the Peer Learning Team in 301 can offer advice, support and resources in making this happen.
---
Visit 301's pre-registration Level up your skills pages to find a curated set of resources that you can access before you begin your course.
If you have any questions or would like to find out more, get in touch:
Email: 301@sheffield.ac.uk
Telephone: +44 114 222 9744
Twitter: @301skills
A world top-100 university
We're a world top-100 university renowned for the excellence, impact and distinctiveness of our research-led learning and teaching.