Developing an academic argument
Information on how to structure an academic argument, from establishing your claim to concluding.
Arguments and ideas lie at the heart of most academic writing. Academic essays usually follow an established organisational structure that helps the writer to express their ideas in a clear way and the reader to follow the thread of their argument.
Essay structure is guided by its content and argument, so every essay will pose unique structural challenges, but the skill of getting a clear and articulate argument across is an important part of the writing process.
---
Claim
At the heart of all arguments is a claim – the main premise that you are interested in proving.
Establishing your claim is one of the most important parts of any piece of academic work; an essay, a presentation, a dissertation, research paper or thesis.
A good claim should be bold, exciting and, most importantly, worth arguing over. A version of your claim will probably be included somewhere in your introduction.
Proof
To convince your reader of your claim, you will need to provide some proof. Your proof will be in the form of evidence, data, sources and examples, all of which will need to be fully referenced in the appropriate style.
However, it is important to recognise that relevant evidence does not automatically prove a claim. There is usually some work to be done to convince your reader that there is a connection – ie how and why this evidence informs your thinking.
This part of the argument is sometimes called a warrant.
Objections
It's also important to consider and actively seek out alternative points of view and potential objections.
There is sometimes a tendency to be drawn to ideas that explicitly or implicitly support our own ways of thinking – the echo chamber – which can result in narrow or flawed arguments.
By engaging deliberately with objections and building them into our own thinking, we can develop more nuanced and rounded arguments.
Conclusion
Your conclusion will draw on this process of research and thinking to present a balanced summary of the argument, using cautious language as appropriate to the strength of your findings.
You may be able to use this as an opportunity to make some predictions or recommendations, suggest some practical applications or identify openings for further research.
---
Be bold and make sure that your argument is something worth arguing over.
Watch out for logical fallacies. Just because you have some evidence, it doesn't automatically prove your argument. You need to explain how and why your evidence is sufficient, valid and reliable
Engage with opposing viewpoints to ensure that you have considered all possible counter-arguments
Don't be afraid to go beyond the source material to draw your own informed conclusions
---
Internal
English Language Teaching Centre (ELTC) academic literacy resources – Building an argument.
Download this template to map out your argument (PDF, 437KB) and use this list of logical fallacies to watch out for (PDF, 419KB) to avoid developing a flawed argument. 
Watch this short Study skills hacks video for some ideas on how to develop your academic argument.
External
Purdue University – What is the Toulmin method?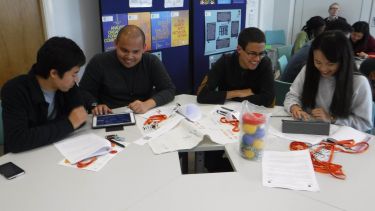 Book a Study Skills Workshop or 1:1 appointment
Would you like to explore a study skills topic in greater depth? Book on for a face-to-face or online workshop or 1:1 Study Skills appointment (current students only).
A world top-100 university
We're a world top-100 university renowned for the excellence, impact and distinctiveness of our research-led learning and teaching.