Information on how to plan and manage your dissertation project.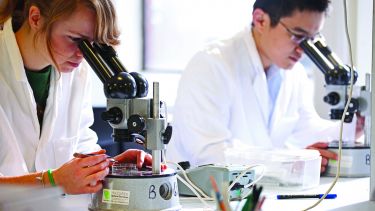 On
A dissertation project is an opportunity to pursue your own ideas in an environment of relative intellectual freedom.
It also present a number of new challenges relating to the scale, scope and structure of a piece of work that is likely to be more substantial than any you have undertaken before.
These resources will help you to break the process down and explore ways to plan and structure your research and organise your written work.
A research-led university
Sheffield prides itself on being a research-led university. Crucially, this means that teaching is informed by cutting-edge research in the academic field.
It also means that you are learning in an environment where you develop and use research skills as you progress. The most successful students tend to develop research skills early and use them consistently.
Research in higher education
Research sometimes just means finding out information about a topic. However, in the HE setting, specific understandings of 'research' carry a lot of weight.
The classic definition is that research leads to an original 'contribution to knowledge' in a particular field of inquiry by defining an important question or problem and then answering or solving it in a systematic way.
You will build this contribution on the foundation of a robust structure of primary and secondary sources and evidence.
Differences across disciplines
Depending on the discipline you work in, there will be different ways of designing and articulating a research problem and different methods for answering these problems.
Not everything about research is 'original'. Sometimes the majority (or even all) of a research project will involve documenting or summarising information or ideas that are already available.
Not all research leads to answers. Sometimes research produces unusable results, or the inquiry leads to only more questions. Sometimes the originality of a research project is that it straddles more than one field of inquiry.
Some examples of approaches to research and what that contribution to knowledge might look like include:
Scholarship of discovery

Explore an under-researched area
Develop or test out a new methodology or technique
Extend or develop a previous study

Scholarship of summary

Review the knowledge thus far in a specific field
Makes connections between disciplines

Scholarship of application

Replicate an existing study/approach in a different setting
Apply a theoretical idea to a real world problem
This all adds up to the fact that research is a complicated topic that seems to mean a lot to academic experts but is very difficult to understand intimately when you are a novice.
As someone new to research, you will need to do some work to find out how research is conceived of and done in your discipline.
---
A research proposal often needs to encompass many things: it is part description, part analysis, part review, part guesswork, part advert, part CV.
Writing a research proposal that can achieve all these things is an important first step towards realising your project idea. Your research proposal will allow you to receive some early feedback on your ideas and will act as a guide as you plan and develop your project more fully.
But how can you explain what you hope to discover in the project before you've done the research?
There are a number of things that you can do to make sure that your research proposal is professional, realistic and relevant:
Read around your topic of interest as much as possible. Getting a feel for what other kinds of research have been done will give you a much clearer idea of where your project might fit in. 
Create a mind map of relevant topics to explore the links and connections between themes. Which branches of your mind map seem most promising as an area for enquiry?
Be realistic. You may dream of making the next big breakthrough in the field, but this is probably unlikely! Set your self aims and objectives that are realistic within the timescales of your project. 
Finally, make sure you follow your department guidelines and include everything that you need to in your proposal. 
---
Whenever you undertake research, no matter what level you are working at, it is always important to consider the immediate and continued impact of your project.
All research should be designed to ensure that individuals involved in the project as subjects or participants are treated with respect and consideration. In practice, this means that:
Participants have a right to full knowledge about the project and what its results will be used for.
You should also be mindful of an individual's rights to privacy and confidentiality.
You should consider the issue of data protection, how you will store project data safely and how long you will need to retain the data
The physical, emotional and psychological well-being of participants and researchers should be prioritised in your research design.
Environmental impacts of the research should be considered and mitigated where possible.
Longer-term impacts, for example, if you are planning to publish findings from the project, should also be considered. 
It is perhaps easy to think that working directly with living participants raises the most pressing ethical questions.
However, you equally need to give very important consideration to the ethics of working in text-based subjects, especially when considering unpublished material (see also copyright).
Your department will have its own guidelines on the area of research ethics and you should certainly consult your tutor or supervisor as s/he will be able to give you detailed topic-specific guidance. More more guidance on ethics in research, visit Research Services Ethics and Integrity pages here. 
---
The key to completing a research project successfully is to invest time in planning and organising your project.
A student research project, whether a dissertation or a research placement, will usually involve tight timescales and deadlines. Given the wealth of tasks involved in a typical dissertation project, this can seriously limit the time available for actual data collection or research. 
Setting yourself clear and achievable aims and objectives will help to ensure that the project is manageable within the timeframe available.
As an early stage of the planning process, have a go at breaking your project down into its constituent parts: i.e. all of the tasks that you will need to complete between now and the deadline. How long will each of them take? For example:
| Task | Timescale |
| --- | --- |
| Background reading | 3 weeks |
| Literature review | 2 weeks |
| Design and write methodology | 1 week |
| Ethics review | 3 weeks |
| Data collection | 2 weeks |
| Data analysis | 2 weeks |
| Produce figures | 1 week |
| Write discussion | 1 week |
| Draft to supervisor | 1 week |
| Act on feedback | 3 days |
| Formatting and bibliography | 2 days |
| Editing and proofreading | 2 days |
Every project will have its own specific tasks, but breaking them down in this way will allow you to start planning ahead, adding milestones to your calendar and chipping away at the project task by task. 
---
Your supervisor will be your first point of contact for advice on your project and to help you to resolve issues arising. 
Remember, your supervisor will have a busy schedule and may be supervising several students at once. Although they will do their best to support you, they may not be able to get back to you right away and may be limited in their availability to meet you. 
There are a number of things that you can do to make the most out of the relationship. Some strategies to consider include:
Share plans/ideas/work-in-progress with your supervisor early 
Plan for meetings, sketch out an informal agenda 
Write down your main questions before the meeting. Don't leave without answers!
Be receptive to feedback and criticism
Take notes/record the meeting on a smartphone with your supervisor's permission!)
---
Read other dissertations from students in your department/discipline to get an idea of how similar projects are organised and presented. 
Break your project down into its constituent parts and treat each chapter as an essay in its own right.
Choose a topic that interests you and will sustain your interest, not just for a few days, but for a few months!
Write up as you go along - writing can and should be part of all stages of the diissertation planning and developing process. 
Keep good records – don't throw anything out!
If in doubt, talk to your supervisor.
Internal resources
External resources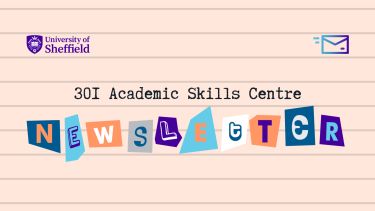 Be the first to hear about our new and upcoming workshops!
The 301 Academic Skills Centre newsletter is a fortnightly email for study skills, mathematics and statistics.
Be the first to find out about our:
new and upcoming workshops,
special events and programmes, and
new and relevant online materials and resources.
A global reputation
Sheffield is a research university with a global reputation for excellence. We're a member of the Russell Group: one of the 24 leading UK universities for research and teaching.