Tips and techniques to help you manage imposter syndrome at university.
First used in the 1970s, the term 'imposter syndrome' refers to feelings of inadequacy that can make us feel as though we are undeserving of our successes and achievements. It can manifest itself in many ways, including setting unrealistic expectations of ourselves, continually attributing success to external factors or other people, and self-sabotaging before we accept new opportunities.
These kinds of feelings are particularly common within academic settings, such as universities, where it is very easy to compare ourselves to those around us.
During your time at university, there will be moments where you feel less confident than your peers or less familiar with the material that you are working on. This is entirely normal and all part of your learning journey. 
There may be times, however, when these feelings occur for extended periods of time and prevent you from engaging with all the opportunities that university has to offer. Below are some example scenarios to help you recognise the signs of imposter syndrome.
While we all want to feel prepared for an upcoming exam, imposter syndrome can lead to overstudying (i.e. studying without taking proper breaks and getting enough sleep). This is often driven by the belief that we are less intelligent than those around us and need to work hard to catch up. 
Despite often receiving praise from tutors or supervisors, imposter syndrome might result in never opening feedback because of the fear that we have finally been 'found out' by them. 
Although we all have times where we are less focused than usual, imposter syndrome can result in putting off tasks due to the fear of not being able to complete the assignment to the right standard. This can sometimes result in missing important deadlines and milestones. 
If some of this sounds familiar to you, look below for some small ways to gain confidence in your research and academic work to make the most of your time at university.  
Accept that perfection isn't possible 
We often strive to be productive all day long, but it isn't feasible to expect our minds and bodies to work actively with the same energy and concentration from the early morning through to the late evening. In fact, research suggests that we are only able to concentrate on a particular task for somewhere between 15 and 25 minutes. 
Rather than setting yourself an unattainable goal, it can be helpful to work out when your peak productivity time is (i.e. the period of the day when you are most focused and engaged). This means that you can schedule activities which require a lot of attention and effort - such as focused reading, planning or writing your essay/chapter - for these periods, leaving low-energy tasks (such as setting up a calendar invite, responding to an email) for times when you are naturally less productive.
Working in this way can help you to maximise your output during your most productive periods, allowing you to have some (much-needed) downtime without feeling guilty about it! 
301 Recommends: 301 Time Management Guide
For more strategies to help you organise your workload and get the most out of your day, take a look through our online Time Management guide.
Recognise your strengths 
It's very easy to focus on the negative feedback and forget about the positive comments that we receive. To help with this, consider using the University's Feedback Portal to record and reflect on your academic feedback. This could include comments that you have received on an essay or a chapter, or something that has come up as part of a tutorial or seminar. 
By making a note of the written and verbal feedback that you receive, you are less likely to focus on the grade or suggested changes alone. Getting familiar with your feedback can also help you to pick out any comments that need further clarification from your tutor and/or supervisor so that you can make progress and improvements next time round.
The Feedback Portal is available to you throughout your time at The University of Sheffield, giving you the chance to track your progress and reflect on all the great things you have done! 
Develop your academic voice
Developing an academic voice in your writing can also help you to feel more confident in the work that you are producing. Some students equate this authorial voice with using complex terminology and convoluted sentences; in fact, it is the other way round. It is much harder to take a difficult idea and express it in clear, simple terms than it is to make it even more complicated! 
Academic writing is different from other forms of communication - it is something that all students have to work to develop and refine, as nobody is born speaking and writing in this way.
To develop your own academic voice, try working through the 301 guide to academic writing. This resource includes helpful pointers and activities on using appropriate academic language, creating a coherent argument and writing to a word count, all of which will help you to communicate your ideas using an appropriate academic register without feeling that you need to pretend to be somebody else! 
Talk about how you're feeling
If anxiety about your academic performance is overwhelming you, it can help to talk to someone about practical ways to manage these feelings so that it doesn't become unsustainable.
The support provided by Student Mental Health, Counselling and Therapies Service and the Student Wellbeing Service is free and accessible to you through your student account. If you're particularly concerned about imposter syndrome, the Wellbeing Service's self-help resources on self-esteem can help you to tackle feelings of doubt and uncertainty through self-guided exercises. Your personal tutor or supervisor can also be a source of support during this time. 
Build connections
University is an opportunity to get to know others who share the same interests and hobbies as you. While making friends is important for your mental health more generally, spending time with others is also an opportunity to recognise that you are not the only person who is worrying about an assignment or panicking about their contributions in a tutorial. 
There are over 360 clubs and societies to get involved with at The University of Sheffield. These include academic and departmental societies, special interest groups, faith societies and working committees. If you're interested in finding out more about these, or about setting up your own, take a look at the Students' Union webpage. 
---
Top tips
Imposter Syndrome can be driven by many factors. Learn to spot the signs, acknowledge the thoughts and feelings, talk through it with others and be kind to yourself; making mistakes is part of the learning process. Remember it's only human to have such moments and you are not alone.
 
In addition to departmental support, consider making use of the services offered by 301, the English Language Teaching Centre and the University Library if there is a particular skill or subject area that you would like to feel more confident in.
 
If you are struggling to recognise the skills that you have and those that you are developing, consider completing the Academic Skills Certificate offered by 301. This is an opportunity for you to reflect on your study and gain recognition for your hard work. 
Useful resources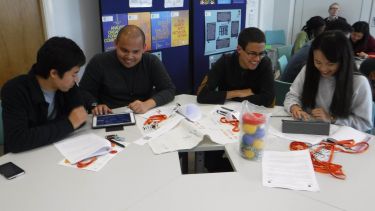 Book a Study Skills Workshop or 1:1 appointment
Would you like to explore a study skills topic in greater depth? Book on for a face-to-face or online workshop or 1:1 Study Skills appointment (current students only).