I was particularly attracted to the interdisciplinary nature of the course at Sheffield

Andrei Roibu
Undergraduate student
Aerospace Engineering with a Year in Industry MEng
Andrei's favourite part of the course has been the variety of diverse, challenging projects available.
Ever since I can remember, I never shied away from a challenge and I always went for what seemed to be the most difficult tasks, constantly seeking to improve my knowledge of the world.
I grew up in a family of mechanical engineers, being inspired by what my grandparents and parents were doing, which instilled into me a love for science and a desire to understand how the things around me work.
Throughout my education in my native Romania I excelled in physics, participating constantly in numerous national competitions. When it came to deciding what I want to do after graduating from high school, pursuing a career in engineering came naturally to me.
As I was always fascinated by aeroplanes and spacecraft, I chose to study aerospace engineering. I was particularly attracted to the interdisciplinary nature of the course at Sheffield, which covers a broad range of topics across the engineering spectrum, the excellent reputation of the academics teaching it, and the university's strong industrial partnerships and contacts.
---
I'm currently on a year in industry at Rolls-Royce, working as a Research Engineering Intern in the Future Aircraft Concepts team, part of the Future Technologies Group doing research into the effects of electrification in aviation.

Andrei Roibu

MEng Aerospace Engineering with a Year in Industry
---
Looking back, it's difficult for me to say what my favourite part of the degree has been, as there are so many things to choose from.
I could say that what I enjoyed the most about the course was the chance to work on some really diverse, interdisciplinary, challenging, interesting and fun projects such as constructing a heavy-lifting autonomous drone for delivering humanitarian aid during my first year; designing a nuclear desalination plan during the Engineering You're Hired activity in my second year; or a long-endurance surveillance UAV during my third-year project.
However, I could say that my greatest achievement so far is Project Phoenix, which I founded and led together with university staff and fellow students, and which aims at constructing and flying a full scale, single engine two seater Pietenpol Air Camper aircraft, and which brings together students from across the engineering departments as well as from other faculties.
I'm currently on a year in industry at Rolls-Royce, working as a Research Engineering Intern in the Future Aircraft Concepts team, part of the Future Technologies Group doing research into the effects of electrification in aviation.
It's quite challenging as it represents a novel area in aviation and it involves dealing with a lot of ambiguity. However, this is where the benefits of the Aerospace Engineering course really started showing, as it equipped me with both the knowledge and the confidence required to tackle a novel research topic filled with unknowns.
The best things about my placement have so far been the opportunity to get to know and work with some of the top aerospace experts in the country, getting to present my work at a national conference and having the chance to learn about machine learning algorithms and neural networks.
After graduation, I wish to continue my studies and pursue a PhD in hypersonic aerodynamics. I believe that the research experience and the knowledge that I've gained so far through the course will prove invaluable for me in achieving my personal and professional aspirations.
ESA Concurrent Engineering Workshop
Recently, I participated in the concurrent engineering workshop, organized by the European Space Agency (ESA) at the European Space Security and Education Centre (ESEC) in Redu, Belgium.
The event brought together 22 students from across Europe and gave us an intensive introduction into ESA's concurrent engineering design method and dedicated software, the Open Concurrent Design Tool or OCDT.
In the four days of the workshop, we were challenged with designing the LUNCH (LUNar CrasH) mission to the moon, which set out to crash an Impactor probe on the lunar surface and scan for water particles in the ejecta plume by using an Observer CubeSat. Then, the Observer CubeSat would have to crash-land on the lunar surface and continue its observations.
I was part of the Propulsion Team, designing the solid rocket stages required for transferring the probes from LEO (Low Earth Orbit) to LTO (Lunar Transfer Orbit) and for slowing down the Observer probe so that it could safely "land" on the Moon.
This experience helped me get a better understanding of space propulsion and I was able to apply many of the concepts I'd learned during the third year aerospace propulsion module.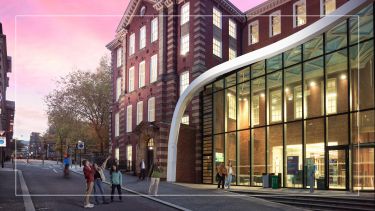 Visit us
Discover what sets Sheffield apart at our undergraduate open days on the Saturday 21 October or Saturday 18 November.