Dr David Curtis
MSc, PhD
Advanced Manufacturing Research Centre (AMRC)
Research and Technology Manager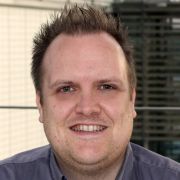 d.t.curtis@sheffield.ac.uk
Factory of the Future, Advanced Manufacturing Park
Full contact details
Dr David Curtis
Advanced Manufacturing Research Centre (AMRC)
Factory of the Future, Advanced Manufacturing Park
Wallis Way, Catcliffe
Rotherham
S60 5TZ

Profile

In 2005, David completed a MEng in Mechanical Engineering at the University of Birmingham, UK, which included aI Year in Industry placement. Upon completion he remained in Birmingham and studied for a PhD funded by EPSRC, Rolls-Royce and other industrial partners. His research concerned the application of point grinding technology for the production of aeroengine disc features.

David is currently Research and Technology Manager within the AMRC Machining Group. Since joining in 2009, he has progressed from a Project Engineer through to Technical Fellow in key functions. He has led or played a key role in the development of independent research areas including: Abrasive Machining; Emerging Machining Technology; Machining Science; Aerofoil and Gear Manufacturing Technology. He also leads activity within the AMRC on the machining of Ceramic Matrix Composite (CMC) materials, focusing on translational research which takes Machining Science fundamentals into an industrial context.

David has an extensive applied research portfolio centred around Aeroengine, Aerostructure and Transmission commodities. His work applies current technology for immediate exploitation and works towards developing fundamental capability into exploitable outputs across UK manufacturers. He is also the AMRC Co-Director for the EPSRC CDT in Machining Science (IDC in Machining Science).

 

.
Qualifications

MEng, PhD
Research interests

David's research interests include: Machining Science; Material Integrity; Process Performance; Fixed Abrasive Processes, Micro Machining, Ultrasonic Assessed Processes; Machining of Additively Manufactured Materials; Advanced Materials; Machining of Ceramic Matrix Composite (CMC) Materials. 
Publications

Journal articles

Conference proceedings papers

Patents

Reports
Research group

Machining