As a university with a track record in forging successful partnerships, we're keen to collaborate in developing new apprenticeships with employers across the city, region and nationally.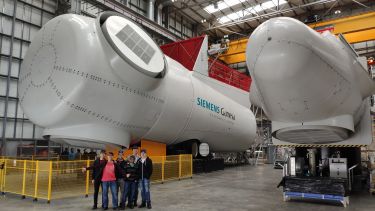 Off
Apprenticeships
We have successfully partnered with businesses such as Boeing, McLaren and Siemens and already have relationships with over 200 small to medium enterprises (SMEs) as an apprenticeship provider.
Our apprenticeship programmes are designed in partnership with employers, so that your apprentices develop the skills and expertise they need to succeed in your industry.
An apprenticeship is:
a way for individuals to earn while they learn, gaining valuable skills and knowledge in a specific job role
a genuine job with an accompanying assessment and skills development programme
a benefit to employers by boosting the skills of the workforce and can help to improve productivity
a way to support a new entrant into the sector or upskill existing staff. 
Apprentices are directly employed by the employer and must be employed on a full-time basis for at least 30 hours per week. They must develop significant new knowledge, skills and behaviours through the apprenticeship.
Apprentices must spend a minimum of 20 per cent of their working hours completing off-the-job training which takes place during the apprentice's normal working hours. In this time, apprentices should be working to achieve the knowledge, skills and behaviours of the approved apprenticeship. 
If you are a business with a wage bill above £3 million, you are able to use your apprenticeship levy contributions to pay for the cost of the apprenticeship.
If you are a business with a wage bill below £3 million, the government will pay 95 per cent of the cost of the apprenticeship for apprentices of any age; you will be expected to pay the remaining 5 per cent.
The University offers apprenticeships from level 3 to level 7. Level 3 (Advanced) apprenticeships are an equivalent level to A Levels; level 6 and 7 apprenticeships may include a fully accredited degree or master degree or PG Diploma level qualifications.
Apprenticeships are currently provided in the following areas:
Advanced Manufacturing
Nursing
Management and Leadership
Psychology
Social Work
A global reputation
Sheffield is a research university with a global reputation for excellence. We're a member of the Russell Group: one of the 24 leading UK universities for research and teaching.