External engagement projects
The Department of Archaeology works with many communities to ensure our work is relevant and meaningful. Our collaborations outside academia involve schools, colleges, community groups, companies and public organisations across the world.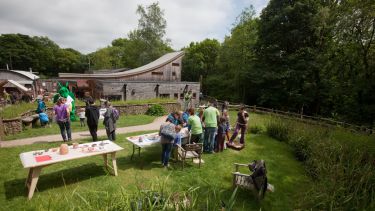 We believe that archaeology provides a unique and compelling perspective on humanity's collective past, and holds the capacity to connect and inspire people of all ages and backgrounds in new and significant ways.
---
Engaged learning
 
Archaeology Matters
Archaeology Matters is a core module for our second-year single honours students (and optional for dual honours). Students work alongside local community groups to develop their research skills and understanding of the cultural, ethical and professional contexts of archaeological research and heritage conservation, through a collaborative field project.
Foundations
Join us at Whirlow Farm for the opportunity to undertake further survey and excavation in a landscape on the western edge of Sheffield which has been occupied since prehistory. Working with Whirlow Farm charity this project will conduct further geophysical and topographic survey across the landholding of the farm and combine this with targeted excavation of features revealed by the survey work.
Find out more, or register your interest by contacting dll@sheffield.ac.uk
---
Engaged community
 
Archaeology in the City
Our student-run, volunteer-led outreach programme of talks and activities to make archaeology, history and heritage more accessible for all in the city of Sheffield. 
---
Engaged research
 
Castlegate

Castlegate is Sheffield's original city centre and home to centuries of market trading, a buried castle and historic civic institutions, but now in serious decline.

The Castlegate project sees the University of Sheffield's Engaged University Project working with Sheffield City Council and local community groups to generate a mix of imagined spaces, practical solutions and real projects to inspire the transformation of Castlegate area of the city.

The Castlegate Archives Project builds on our previous work on medieval Sheffield through excavations at Manor Lodge, which were directed by Dawn Hadley.

The Rothwell Charnel Chapel Project

The Rothwell Charnel Chapel Project is a multidisciplinary, community-led archaeological investigation of the 13th-century charnel chapel situated beneath Rothwell Parish Church, Northants. The chapel still contains the bones of hundreds of people, who and died between the 13th and 19th centuries.

This project provides the research basis for a large-scale community initiative between the University (staff and students) and local stakeholders involving the production of learning/teaching resources, outreach activities and collaborative research between the University and local people.

This collaboration will be strongly research-led and involve written publications in both academic journals and local media, group activities and online engagement via social networking.

The Newark Civil War Project

The Newark Civil War Project is a long term collaborative venture by the University of Sheffield and the newly established National Civil War Centre at Newark. It aims to comprehensively review the 17th-century siegeworks surrounding Newark-on-Trent, Nottinghamshire and produce a major HLF bid for a community project investigating this nationally significant site.

Despite being a site of national significance, the earthworks relating to the siege have not been comprehensively studied since 1964, when the Royal Commission on Historic Monuments (RCHM) published a topographic survey of the upstanding remains.

The project will review this report in the light of subsequent archaeological research and will assess the potential of modern geophysical and topographical survey techniques to locate and record both upstanding and destroyed remains. This will result in a community project to survey and investigate the earthworks and disseminate these results to the general public and academic communities.

MEMOLA

The MEMOLA project aims to undertake a specific historical and archaeological study of four Mediterranean mountain landscapes in Spain (Sierra Nevada), Italy (Monti di Trapani and Colli Euganei) and Albania (Vjosa Valley). The project brings together a network of archaeologists, historians, environmental scientists, soil scientists, botanists and agronomists to quantitatively assess the long-term historical uses of water and soils and how these have been utilised by different communities within the study areas.

MEMOLA is an interdisciplinary network designed to take an innovative approach to the cultural landscapes of Mediterranean mountainous areas. Sheffield archaeomaterials experts Dr Roger Doonan and Prof. Peter Day are key partners in the project. More information can be found about the top five ranking at http://www.memolaproject.eu/node/1115
---
Arts Enterprise
Notably, members of the Archaeology Department have taken part in the Tales from the Ivory Tower: a faculty-wide project to create stories from our the university's research. In collaboration with professional storyteller, Tim Ralphs, staff members Petra Verlinden and Rachel Askew have acquired the skills to communicate their research in new, exciting ways and perform to a public audience in narrative style.
Petra's story: The child who liked the past
Petra explores how her fascination with the past as a child ties into her current interest in children and childhood in archaeology - an area of research which was largely ignored until the early 2000s.
---
I liked to wander around and read the names of people's headstones and trying to imagine who they had been, how they had lived, who they were. This feeling of wanting to reach out to people from the past has never really left me. This feeling stayed with me when I went off to university.

Petra Verlinden

Demonstrator in Human Osteology | Department of Archaeology
---
Rachel's story: The tale of two Kelhams
Rachel shares the story of Kelham Homer Jr and Kelham Homer Sr - both armourers living with Sheffield Castle in the 1600s - two humbly born men who grew up in Sheffield and left an indelible mark on its landscape.
---
Sheffield is a city built on stories. You only need to walk along the local streets to find this out. Arundel Gate, Fitzalan Square, Norfolk Street; all are named after the Earls who made Sheffield great.

Rachel Askew

Honorary Research Fellow | Department of Archaeology
A world top-100 university
We're a world top-100 university renowned for the excellence, impact and distinctiveness of our research-led learning and teaching.