Current PhD students and research
Some of our PhD students explain why they chose Sheffield and share their experiences of postgraduate research here.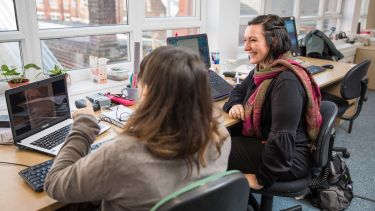 Off
---
Watch our PhD student interviews
Sam Garwood
PhD in Historical Archaeology
Originally from Michigan, Sam joined us an international masters student and went on to complete her PhD in 2017. Her thesis was titled 'Cross-Cultural Exchange in the Post-Medieval Adriatic: An examination of glass artefacts from the 15th through mid-18th centuries. 
"I did my MA at Sheffield and the support that I received from the staff here - not just from my own supervisor, but from the visiting lecturers and post-docs - made me decide to stay and do my PhD here"
---
Lucy Lawrence
PhD student in Zooarchaeology
Lucy, from London, shares how studying in Sheffield has allowed her to work at places she would never had the opportunity to otherwise - including the famous Knossos site in Greece.
"It's a great postgraduate community and your supervisors are always really encouraging"
---
Student testimonials
"The research environment of the University of Sheffield is very motivating and dynamic. All the staff are highly qualified and very supportive. For this reason, I applied for a PhD here."
VERONICA TESTOLINI, PHD STUDENT
---
"I feel privileged for having the opportunity to work in a research-driven department that gives such an importance to materiality and cross-disciplinarity among numerous researchers. This is part of why I came here and it is definitely the reason why I stayed."
LOUIS OLIVIER LORTIE, PHD STUDENT
---
"I chose Sheffield due to its reputation for world-leading research, especially in the Archaeology Department. I feel that the University offers the support I require to develop my research skills and ensure a successful career in academia. Furthermore, the friendly reputation of both the city and the University were major factors I took into consideration while making my choice."
TAMSYN FRASER, PHD STUDENT
---
"The Department of Archaeology at Sheffield is a vibrant, friendly and motivational family, which I thoroughly enjoy being a part of. When I arrived as a postgraduate student on my MSc I was made to feel part of the team, providing the perfect environment for me to move forward with my research and career. The Department offers a good support network not only to carry out your research, but also to help you present your research to colleagues and at conferences. I chose to continue researching at Sheffield and to undergo a PhD here, as I had found my home."
YVETTE MARKS, PHD STUDENT
---
Find a PhD
Search for PhD opportunities at Sheffield and be part of our world-leading research.