Zooarchaeology Laboratory - Consultancy
We undertake analysis of animal bone assemblages from most periods (Upper Palaeolithic- Modern) in Britain and Europe. Our team of experienced zooarchaeologists offers a range of expertise in:
• Mammal, bird and fish bones
• Microfauna
• Marine molluscs
• Crustaceans
• Insects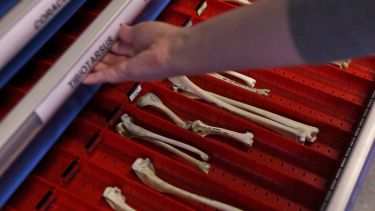 Off
Zooarchaeology Consultancy Flier
We have carried out consultancy work in collaboration with many organisations throughout the country, and are always keen to create closer links with archaeological units and other organisations involved in developer-funded archaeology. In Sheffield, we can provide the expertise, the enthusiasm, the facilities and the know-how to carry out consultancy work in zooarchaeology. Young researchers can develop their experience by working on developer-funded projects but they are closely supervised by more senior members of staff, who guarantee the quality and reliability of their work.
---
At the Sheffield Zooarchaeology Lab we can offer:
• An extensive reference collection.
• Dedicated zooarchaeological lab space.
• A large library of zooarchaeological literature.
We would be delighted to discuss potential collaborations with archaeological organisations in need of zooarchaeological expertise. For further details and discussion of timing and costing of projects please contact Umberto Albarella.