You'll find all the tools you need here, including dedicated design studios with panoramic views over Sheffield and specialised architecture resources.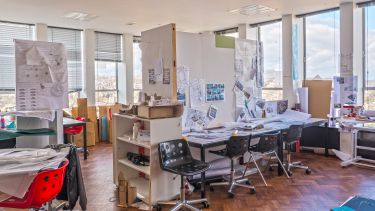 The Sheffield School of Architecture is located in the Arts Tower where the majority of teaching takes place. Lectures may be located in central teaching spaces and students can also take advantage of facilities across the campus including our materials workshop in the George Porter Building.
Studios
Our studio culture provides a space for students to develop their own design approach within the frameworks. In our undergraduate programmes, material taught in lecture courses is brought into studio projects, where tutors and practising architects help guide the design process. Our postgraduate taught masters and MArch students work on studio projects which build on the strengths and research interests of our design tutors.
Materials workshop
Our materials workshop facility offers a range of equipment for modelling and fabrication with a range of materials. The George Porter workshop has a comprehensive range of equipment including laser cutters, CNC router, bandsaw, bench sanders, vacuum former, heat sheet bender, TIG welding and a huge range of battery-powered and hand tools. Staff are on site to offer advice and assistance and the workshop offers a well-stocked shop which sells modelling materials. The model making studio offers an extension of the Arts Tower studios for light tooling and large scale modelling.
The materials workshop on Instagram
Information technology
The computer lab is for architecture students and the PCs host a suite of professional BIM, CAD and design software.
Print unit
The Print Unit offers a range of printing, scanning and binding facilities up to A0 in size. There is also the opportunity for students to take advantage of 3D printing of models from digital files.
Drawing materials for current students are available at the Print Unit Online Store. 
Media unit
In the Media Unit, you will find a full range of audio, visual and environmental equipment. This includes an artificial sky for daylight simulation, heliodon for sunlight simulation, environmental meters, thermal imaging camera and mixed reality imaging suite.
A photography studio is also available for model photography and we offer a fully equipped digital review space.