Everything you need to know about applying for one of our MArch programmes in the School of Architecture.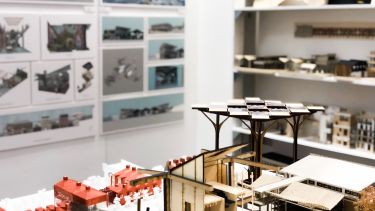 Off
How to apply
You will need to complete our online application form. As part of the process, you will be asked to upload supporting documents. You are not required to send any hard copies to the department. 
You can submit more than one application if you are applying for two different courses, however, you will have to submit them separately. The system will save your details from the first application so you will only need to enter your information once.
Attend one of our postgraduate open days to find out more.
Apply online
Applications close on Friday 25th August 2023.
Supporting documents
References
You will need two references ideally one from your previous university and one from a previous or current employer. The reference should include how long the referee has known you and in what capacity, work undertaken by you, your attendance record and their opinion of your suitability for the MArch course.
Design portfolio
Some advice on putting together your portfolio:
You should include a range of academic and practice work
Use this as an opportunity to show your breadth and range of experience
We do not need every drawing from every project
Feel free to include extra activities such as competitions, workshops, field trips
This should be 10-12 sheets
Please keep file size for this to a max of 20Mb
You should submit this as a pdf. We do not accept links to online portfolios or shared drives.
Personal statement
Your personal statement should be 500-600 words, reflecting on your previous architectural experiences. We would also like to know why you have applied to study at the Sheffield School of Architecture. It is always of value to know what your architectural approach is and what areas of the subject you are really interested in.
After you apply
When your application is submitted you will receive an email confirmation containing your application number. We aim to process your application within four weeks. If you are successful, you will be invited for an interview. Unsuccessful applications will be notified by email.
Interviews
Interviews will be an opportunity for you to discuss your experience to date and answer a series of questions. 
Please bring a portfolio which should include examples of academic and practice work. Feel free to include any dissertations and essays that you may have completed at university. You can also bring along any reports that you may have worked on in practice. It is always good to see a mixture of work and please include a couple of sketchbooks.
If you are invited to an interview but working/travelling abroad we can offer online interviews. Please email architecture-admissions@sheffield.ac.uk if you would like to do this. 
---
Graduates of the Sheffield School of Architecture
If you studied a Sheffield architecture undergraduate degree and are applying to return to study an MArch course in Sheffield, you should apply using the online application system but will not be required to upload the supporting documents. If you are invited to interview please be aware that this is a competitive process. You should prepare a portfolio as described above. 
A world-class university – a unique student experience
Sheffield is a research university with a global reputation for excellence. We're a member of the Russell Group: one of the 24 leading UK universities for research and teaching.