MArch Architecture and Town and Regional Planning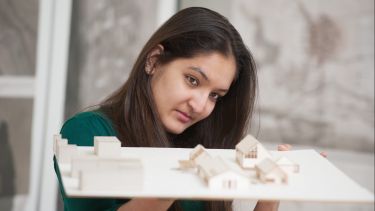 Why did you decide to study at Sheffield?
My decision to study at Sheffield was strongly shaped by the fact that it's a vibrant, diverse and walkable city. The city has a rich architectural fabric and industrial heritage which undoubtedly shapes and inspires my learning. Moreover, the University's focus on architectural research and social design is very unique – encouraging students to push the boundaries in response to our changing global needs.
What have you enjoyed about the course?
I strongly value and share the social ethos at the University of Sheffield. The Live Projects in particular, serve to cultivate our investigative and creative potential. The inherent public engagement and co-design work we carry out can be really empowering for the communities we work with. In many cases, this has had a lasting impact.
---
The 'Live' nature of the work we do makes our projects practical and realistic within the professional context. Since design is universal and architecture is ubiquitous, it's great that our studios and projects are not limited to Sheffield. This provides a new approach to similar issues in different contexts.

Farhana Jiwa
---
What skills have you gained while studying in Sheffield?
My studies at Sheffield have allowed me to cover a wide range of disciplines in architecture and other fields, but more importantly, have inspired me to explore innovative techniques and technologies for the contemporary city. Communication, collaboration and research are embedded in the work we do, from an initial project meeting through to final delivery. My experiences, therefore, have been very enriching. For example, my studio in Brussels last year (Re-Activist Architecture) allowed me to apply my design thinking in a completely different social, political and geographical context.
How has studying at Sheffield informed the way you think about the subject?
Studying at Sheffield has truly reinforced my appreciation and aspiration towards socially conscious design within the profession. In an era of rapid urbanization, environmental pressure and resources scarcity, the need for conservation and sustainable practice remains critical.
What advice would you give to a new Sheffield student?
Get involved, challenge yourself or simply try something new! The University has a lot to offer; societies, festivals, international celebrations and so much more.
How should students make the most of University?
Be active and enjoy the University experience – love what you learn, keep inquiring and push the boundaries through research, experimentation and innovation.
Embrace every opportunity and enjoy every moment!
What is your favourite thing about Sheffield?
The people and the University's wider ambition towards technology and innovation are really inspiring – allowing students to explore new spheres of creativity.