MArch Architecture: Collaborative Practice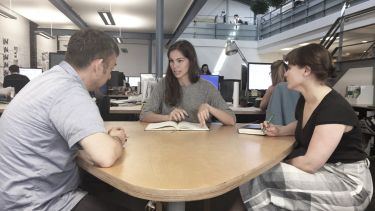 My experience of working and studying in practice
I am Naomi, a Collaborative Practice student who last year worked at the London-based architectural practice Levitt Bernstein whilst studying for my Part II masters at Sheffield. I was one of 13 Collaborative Practice students who were embarking on Sheffield's newly established MArch course.
I admit I was slightly worried at first how to balance academic and professional work. I soon realised that studying in a professional environment meant you had immediate access to valuable knowledge, advice and support from experts, which made this unique MArch experience extremely rewarding and beneficial for my academic work.
The course follows a 4-day work week structure. This left Friday as my focused study day which was also used for tutorials with the course leader, Satwinder Samra, and intense design-day sessions with my fellow Collaborative Practice students. These were held at various architectural practices around London and Sheffield who are affiliated with the course and often ended with a tour around the practice and presentation by directors or senior staff members about their approach to design. A particular highlight was spending a tutorial day in the Rogers Stirk Harbour + Partners' office situated in the Leadenhall building aka. the 'cheese grater'. We were fortunate to meet and listen to Ivan Harbour who presented initial drawing concept and development sketches for upcoming projects.
My design studio module was based on a housing project I was working on with an associate, architect and landscape architect at Levitt Bernstein. For this module, we needed to propose an alternative design to our practice's scheme through analysis, critique and further design iterations.
---
The housing project at Levitt Bernstein was developing simultaneously with my academic work which revealed exciting opportunities to implement design ideas and drawings produced for my design university module into the actual design proposals for planning.

Naomi Bailey
---
Overall, I felt studying and working in practice added purpose to my research. I was more confident in meeting, interviewing and talking to various members of the practice from junior to senior staff and directors of Levitt Bernstein. I was fortunate to be working in a practice who were very supportive and accommodating of my academic studies but I can say my Collaborative Practice peers had similar experiences too.