Sarah studied the BA and MArch Architecture and is now qualified as an Architect, working at Hawkins/Brown in London.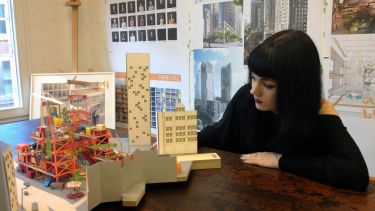 Job title: Architect
Company name: Hawkins/Brown Architects
Degree: MArch Architecture, 2014, BA Architecture, 2010
What are your main responsibilities?
I work as part of a team who are responsible for the design of buildings, from concept to completion. My current project is a large science education building for the University of Oxford. We are in the construction stages, so my day to day role involves liaising with the contractor, subcontractors and other consultants to ensure that the design intent is realised on site.
Please briefly outline your previous roles.
I have worked in a number of architectural practices across different sectors and at varying scales. I worked as a part II assistant and as package architect on the Beecroft Building for the University of Oxford, a state of the art physics laboratory, which recently reached completion.
How did your qualification or your time at Sheffield help you in your career?
Many employers in the architectural field value University of Sheffield graduates highly - I feel that they actively search for graduates from here.
What is your greatest achievement to date?
I was recently part of the team that won the competition to design and build the first Pride float for the architectural profession.
What advice do you have for students who would like to pursue a career like yours?
You do not need to be a particular type of person to study and practice as an architect.