Architecture graduate receives regional award at Global Undergraduate Awards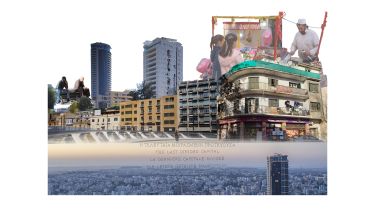 Maria Christodoulou was highly commended by the judges for the Global Undergraduate Awards in the Art History and Theory category. Maria went on to win the European regional award for Art History and Theory with her essay "Nicosia: The Significance of Public Spaces in a Divided City".
Maria originally wrote the essay as a third year student as part of a Humanities module. Her approach was a personal one, as she grew up in Nicosia, after her family were displaced in the Turkish Invasion. 
My choice to focus on segregation stems from the divided character of the city and our society's tendency to ignore the issue of segregation due to our inclination to internalise division in the post-war period. It is of paramount importance we, not only address segregation but, also, attempt to unite people. My aim was to identify socio-spatial segregation within Nicosia, acknowledging the conflictive nature of our contemporary urban society, with the aim to trigger a re-evaluation of urban dynamics.

Using the cases of 'Eleftheria Square' and 'Ledras Street' I demonstrated the significance of public 'blurred' spaces which integrate people of all backgrounds, facilitate ethno-religious plurality and thus influence the city's character by creating a common life and offering equal opportunities.

Maria Christodoulou

BA Architecture graduate
The Global Undergraduate awards programme recognises outstanding undergraduate work and preserves and shares them with a global audience via an online portal. 
We are delighted that Maria has been recognised for her outstanding essay on Nicosia. The Global Undergraduate Award is testament to the rigorous and sympathetic approach that Maria has taken to the city, as well as to the quality of writing of her essay.

Luis Hernanadez

Humanities module leader
Maria will be receiving a certificate of recognition, and her work will be published on the Undergraduate Awards online library. 
Since graduating Maria has started working at HFM Architects in London where she is currently working on a new food hall retrofit scheme within a 70s concrete building at a prominent site in the London Borough of Barnet.