Congratulations to third year student Grace, for receiving the first prize in the Diversity in Design Bursary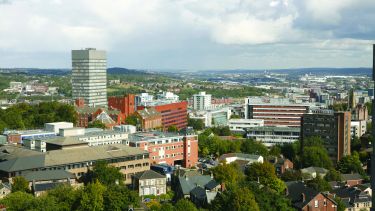 Last year Gensler launched the Diversity in Design Bursary, to help break down barriers to entering the architectural profession for underrepresented ethnic minority students in the United Kingdom. Last year Grace won a Diversity in Design micro prize - and this year she's won the first prize, a £10,000 bursary along with a full time position in Gensler's London office. 
Applicants for the prize needed to respond to one of several prompts addressing current challenges in society such as: reestablishing trust in public safety; reinventing the human experience post-pandemic; reimagining ways for designers to make a difference; and designing for racial equality and inclusiveness in our practice, communities, and cities.
Entering the competition was a great experience, which helped me gain confidence in my design process. I entered the Gensler DiD Bursary Competition with my first-semester textile market project, as I felt that it strongly displayed my architectural values, especially cultural inclusivity, community design, and promoting user integration through the building's layout.

I also submitted a sketch design for one of four design prompts: Design for racial equality and inclusiveness in our practice, communities, and cities. The competition process also included an interview for each of the shortlisted applicants, and this was a great way to elaborate on my design intentions and other interests within the field.

Following the competition, I also got a job offer which was a pleasant surprise, as this wasn't a guarantee, and I have been very hopeful of working at Gensler since I won the 2022 DiD micro prize during my first year. I'm really grateful to have won the Gensler Diversity in Design Bursary, and it has been an incredible opportunity.

Grace Orimoyegun

BA Architecture student
Grace joins 21 other young designers in receiving an award from the 2023 Gensler Rising Black Designers Scholarship and Diversity in Design Bursary (UK). 
We are delighted that Grace has won this national award. It is a testament to her tenacity, ingenuity and determination. We wish Grace every success in her placement and hope that this opportunity will provide her with greater agency to make positive and meaningful change in architecture.

Leo Care

Director of Student Experience and Year 3 Leader
The Gensler Diversity in Design Awards will re-open in autumn.  
A world-class university – a unique student experience
Sheffield is a research university with a global reputation for excellence. We're a member of the Russell Group: one of the 24 leading UK universities for research and teaching.