Field: journal relaunches with Issue 8 'Embodying an Anti-Racist Architecture'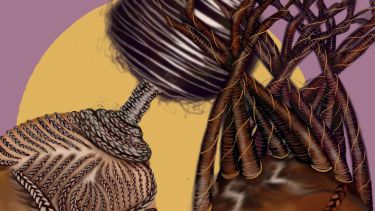 Field: is an international peer-reviewed open-access journal that ensures that excellent architectural research is available to the widest possible audience. The journal was launched in September 2007 with Issue 1 'Architecture and Indeterminacy', and was subsequently published annually. 
Following the 2017 issue of field: 'Becoming a Feminist Architect' there has been a pause in producing the journal. However it's now back, under the guidance of Chief Editors, Emma Cheatle and Luis Hernan. Issue 8 'Embodying an Anti-Racist Architecture', co-edited with Carolyn Butterworth, Victoria Ogoegbunam Okoye and Catalina Mejía Moreno, put out a call for submissions as a response to our students' critical document 'Anti-Racism at SSoA: A Call to Action' an open letter written in September 2020 following the death of George Floyd and protests instigated by the Black Lives Matter movement.
The issue contains a range of essays, articles, podcasts, drawings and designs from diverse experiences and contributors, including staff, students and alumni from the school and collaborators at other schools of architecture. Highlights include alumna Zoe Lord's dissertation, 'Housing: A Racial Equality Issue', which was shortlisted for the RIBA President's Awards for Research, research associate Ben Purvis' 'It's Not My Place: On White Silence and Feeling Uncomfortable, Aayushi Bajwala's 'Walking on the Margin: A Study of Marginalised Ethnic Groups and Their Walking Practices in Urban and Rural Britain', Unsettled Subjects' 'Unsettled Subjects/Unsettling Landscapes: Confronting questions of architecture in C. L. R. James' The Black Jacobins', and the cover art specially commissioned by alumna Alem Derage.
Emma Cheatle says: "We brought this issue together in order to reflect on the spirit of the journal and respond to the students' 'Call to Action'. Our editorial begins with the quote by Franz Fanon: 'Decolonization, which sets out to change the order of the world, is, obviously, a program of complete disorder. But it cannot come as a result of magical practices, nor of natural shock, nor of friendly understanding.' By reflecting on racism we choose to address an urgent problem that shapes our discipline. We have embraced a range of contributions, including from students not normally published in a journal, and we made an editorial judgement to prioritise powerful, developing subjectivities and lived experiences, embracing the unfinished, the complaint and the experimental. We hope that this issue, a first dialogue, will prompt important ongoing conversations and prompt disorderly and urgent changes to our 'field'."
Field: is available now online.
This soft launch will be followed by a series of talks by contributors to this issue  – watch this space. 
Flagship institutes
The University's four flagship institutes bring together our key strengths to tackle global issues, turning interdisciplinary and translational research into real-world solutions.