OpHouse group to present at International Cohousing Summit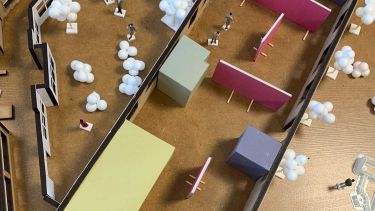 The International Cohousing Summit was first held in 2009, and since then many new cohousing projects have developed into cohousing communities. The 2022 conference will take place over three days, 13-15 January and take place online. The focus for the conference is the role of professionals in supporting community-led housing projects. Colleagues can register for the conference here. 
Sheffield School of Architecture's Live Projects Coordinator, Sam Brown, will introduce representatives of a Live Project group that has worked with a community-led housing project as part of this year's Live Projects Programme. Live Projects is a core part of our postgraduate students experience - with the programme now in its 22nd year. The programme has developed a number of projects for cohousing groups and other forms of community-led housing in that time, as well as engaged, strategic work for local authorities, charities and grass-roots community groups of all kinds.
The team was one of many teams taking part in the 2021 Live Projects, and was made up of 14 Masters students across a number of different courses in the School of Architecture. They worked with OpHouse, a community-led housing initiative in York. Their aim is to renovate Morrell House, a former care home, into residential space via self-building and related community intervention.
The Live Projects team's role was to help engage the local community and potential residents with the design of the renovated building. They worked with OpHouse during York Design Week to gather feedback and incorporate it into the project. 
The OpHouse Live Project team has played a crucial role in bringing this project to life for their client. By engaging future residents in the design work, they have broken down what can seem a daunting task into small manageable steps that they can take to take ownership of the building and imagine themselves living there. In turn, the material they have produced has helped their client gain the support they need to carry out the project. The team has managed to achieve in 6 weeks what can take some similar projects many months and years to carry out - and this has been very well received by their client in the process!

Sam Brown

Live Projects Coordinator
A world-class university – a unique student experience
Sheffield is a research university with a global reputation for excellence. We're a member of the Russell Group: one of the 24 leading UK universities for research and teaching.