PhD student paper named Highly Commended in 2020 Emerald Literati Awards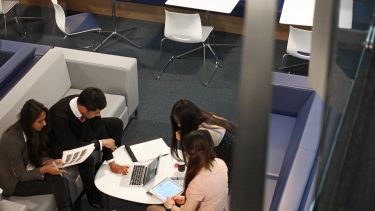 Kate Morland's published research article 'Development of a multi-level learning framework', co-authored with her co-supervisors, Fionn Stevenson and Dermot Breslin (Sheffield University Management School) while doing her PhD in the School, has been selected as a Highly Commended Paper in the 2020 Emerald Literati Awards.
The paper was considered among all papers published in various international research journals supported by Emerald Publishing. The editorial team said that it is one of the most exceptional pieces of work they saw throughout 2019. Kate is now working as a research assistant in Leeds Beckett University.
Paper abstract:
This paper aims to examine multiple learning cycles across a UK housebuilder organization following changes made to their quality management routine at the organizational level, through to subsequent understanding and enactment at the level of the individuals involved. This study uses a qualitative case study methodology based on an analysis of six-weeks of participant observation, semi-structured ethnographic interviews and documentation within three of the organization's regional offices. Through an abductive process, it draws on gathered data and extant literature to develop a multi-level learning model. Four levels of learning cycles are observed within the model: individual, team (within which inter-organizational relationships nest), region and organization. Three inter-related factors are identified as influencing feed-forward and feedback across the levels: time, communication and trust. The impact of these levels and factors on the process of learning is conceptualized through the metaphor of coupling and decoupling and discussed using examples from housing development projects. While previous models of organizational learning highlight important multi-level interaction effects, they do not explore how the different levels of learning synchronize over time for learning to move between them. This paper addresses this gap by shedding important light on how layers of learning synchronize and why and when this can occur within multi-level organizations.  
Flagship institutes
The University's four flagship institutes bring together our key strengths to tackle global issues, turning interdisciplinary and translational research into real-world solutions.