Professor Darren Robinson appears on Data for Resilient Cities podcast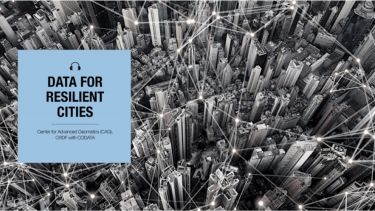 In the latest episode of the podcast Darren starts a conversation on urban sustainability, resilience, and liveability with Avanish Pendharkar, Executive Director of the Center for Urban Planning and Policy (CUPP) where he talks about the complexities of urban systems and their challenges. Darren and Avanish also discuss how cities need to build a culture towards data collection, management, and publication to plan for sustainability, while also focussing on a policy framework to openly allow the use of publicly available data for planning and economic development. They discuss examples of data collection approaches in the UK and in India, like RERA where regulatory approaches have helped crowdsource data. They go on to talk about how these top-down approaches differ from bottom-up approaches to obtaining data, and the opportunities and challenges that these approaches bring. In the end, the two advocate for the need for a policy framework and adoption of FAIR data practices in the collection and dissemination of data in an open-source format that cities and urban local bodies could adopt. 
You can listen to the podcast here.
Darren Robinson is Professor of Architectural and Urban Sciences. He conducts research at the interface between social physics, building physics, and urban physics [people - buildings - city] and was editor and lead author of the book Computer Modelling for Sustainable Urban Design.
Avanish Pendharkar is an urban planner from Georgia Tech, USA, and an urban designer from the School of Planning and Architecture, New Delhi, with over 20 years of international work experience.  He has had the privilege of working on large and complex planning projects and programs including the FIFA Qatar program. He has been a key member of the team that has worked on the implementation of AURIC City – one of the first large industrial cities under the DMICDC and has been a consultant for various development plans and master planning schemes for new towns and neighbourhoods.
Flagship institutes
The University's four flagship institutes bring together our key strengths to tackle global issues, turning interdisciplinary and translational research into real-world solutions.