Sheffield School of Architecture student in final five of the 3DReid Student Prize.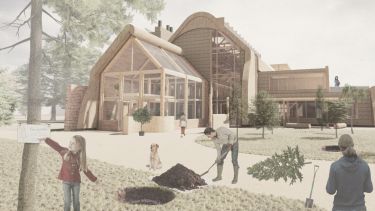 The 3DReid Student prize, now in its 16th year, is awarded by award-winning architecture practice 3DReid. It's the largest independent prize for Part II architecture students, and every year each architecture school in the UK is invited to nominate one student. 
Elliot's project set in Convoys Wharf looks to connect a fragmented network of community foresters, timber producers and woodworkers to facilitate a more productive and communal use of London's underutilised trees through traditional woodworking, lumber production and forestry.
The scheme reflects natural-industrial duality in its construction. In the main hall, process and labour are celebrated through a language of jointed natural roundwoods and woven inserts, while in the tower spaces such as the theatre, modern cross-laminated timber allows forest views to take precedence.

John Sampson

Joint Director of MArch Programmes.
The prize is judged against criteria including the impact the project has in addressing societal concerns, innovation and how well communicated it is. This year the panel of judges included senior representatives from architectural practices and related industries. 
Judging took place virtually at the end of July. Students and judges were joined by Maria Suprun, a student from Kharkiv School of Art, Ukraine. Please visit 3DReid's article to find out more on supporting the School's Ukrainian students to complete their studies. 
Many congratulations to everyone who took part in the 3DReid prize.
A world-class university – a unique student experience
Sheffield is a research university with a global reputation for excellence. We're a member of the Russell Group: one of the 24 leading UK universities for research and teaching.