Sheffield students shortlisted in AJ Student Prize Sustainability Award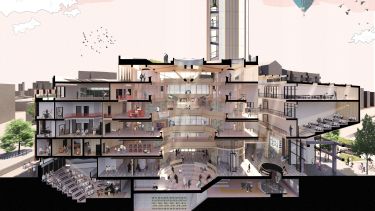 Submissions for the prize came from 37 of the 51 RIBA-accredited architecture schools. The projects tackle some of the most challenging issues facing the planet: the refugee crisis, pollution, reclamation of post-industrial sites, the need to grow food locally and the burgeoning issue of last-mile logistics.
Tobias and Thomas focussed their work on Europe's refugee crisis. Their Studio, Arrival City, collaborated with local stakeholders in Milan to explore the effect this mass migration and urbanisation is having on our cities. Milan has become a major transit point for those landing in southern Italy trying to reach countries in northern Europe. As more and more northern European countries close their borders, Milan is changing from a point of transition to a point of arrival for many migrants.
As part of the project, Tobias and Thomas noted that this migration has coincided with unprecedented growth in support of far-right Italian political parties. It was through a direct reaction to this that Retention Centre was born.
Tobias and Thomas ensured that sustainability is inherent within the Retention Centre programme, with facilities that aim to tackle the three core components of social inequality (vital, resourceful and existential) so that arrivals can make an informed, voluntary decision to stay and contribute to the future prosperity of their city.
Arising from an initial period of informal occupation, the project is set in 2040, and as such responds to the contemporaneous resource scarcity through inhabiting an existing concrete frame and specifying local, carbon-sequestering materials. Heat-exchange technology and low-carbon thermal mass turn Milan's high seasonal and diurnal temperature variation into a project asset, with a perforated, adaptable façade system providing the solar shading necessary to thrive within a warming climate.
A world top-100 university
We're a world top-100 university renowned for the excellence, impact and distinctiveness of our research-led learning and teaching.