URBED wins National Urban Design Award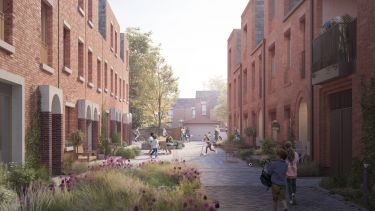 'Love Wolverton' is a redevelopment of the Agora Centre in Wolverton, Milton Keynes. The Urban Design and landscape were provided by URBED and initiated by John Sampson, one of our Directors of MArch programmes, as part of his role at URBED. It won the Midscale Framework and Masterplans awards at the National Urban Design Awards 2021.
The redevelopment working in collaboration with MOLE, Mikhail Riches and CIVIC Engineers will restore a historic street, Radcliffe Street, which was originally lost forty years ago as part of the Agora Centre's development. The creation of two new, car-free, "little streets" also echo the historic streets of Wolverton and will connect key parts of the town, providing social and play-friendly spaces for residents, neighbours and their children. 
The buildings involve six development blocks, ranging from two to four storeys, with architecture that is influenced by the history of Wolverton. The red brick walls and varied styles of deep set windows and porches that evoke the Victorian character of the town by combining contemporary forms with local brick tones and detailing.
The scheme has been designed to be one of the most environmentally ambitious regeneration schemes in the UK with and includes collaboration with Community Energy Wolverton to deliver a community energy network. The project will also house Still Green, an over-50s co-housing community based locally.
The development is being brought forward by the developer TOWN who were responsible for delivering the Cohousing Development Marmalade Lane in Cambridge. Jonny Anstead and Neil Murphy, founding directors of TOWN, co-ran our MArch Studio, "Degrowth" last year.
John Sampson adds, "As a school we look to build upon the knowledge and partnerships that our design tutors have outside of the school to complement and expand our ability as a school to deliver projects that are both low carbon and integrated into the community".
A world top-100 university
We're a world top-100 university renowned for the excellence, impact and distinctiveness of our research-led learning and teaching.