Dr Isaiah Durosaiye
PhD
Research Associate
Member of the School Research Committee
Member of the School PGR sub-Committee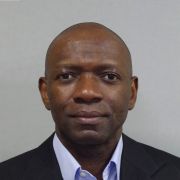 Profile

My research is concerned with ageing and the built environment and is underpinned by the person-environment fit theory. In particular, my research focuses on how human-environment interactions could support the health and wellbeing of older people. My work on age-friendly environments applies qualitative methods and post-occupancy evaluation as tools to understand and improve the built environment for older people.

For more than ten years, I have participated, and led work packages, in a number of UKRI-funded and EU-funded interdisciplinary research projects. Between July 2020 and June 2021 I was a Co-investigator on the AgeingHood project, a £100k AHRC-funded research that explored the intersection between ageing, housing and livelihood in marginalised communities in Bangkok, Thailand. As a co-investigator I led the co-design and participatory research activities on the project, with an outcome that contributed to the development of housing typologies for low-income groups in Bangkok. Between June 2022 and December 2022, as a follow-up to the AgeingHood project, I secured a further £30k AHRC follow-on funding for impact creation and knowledge exchange activities.

Between March 2015 and February 2018, I was a researcher in the €1m ESRC-funded ODESSA project on Optimising Care Delivery Models to Support Ageing-in-Place, including partners from China, France and the UK. I co-authored 3 peer-reviewed journal articles from the ODESSA project.

Prior to that, between March 2013 and September 2016, I worked as a researcher on an EU-funded research project, OIKONET, which was a €1m multidisciplinary housing research project involving 34 partners across Africa, Europe and South America. One of the outputs of the OIKONET project is a book I co-edited, entitled 'Global Dwelling: Approaches to Sustainability, Design and Participation'.
Qualifications

PhD Architectural Design
MSc Sustainable Waste Management
MBA
BSc Civil Engineering
Research interests

Global population ageing and demographic trends 
Age-friendly and inclusive design 
Health and wellbeing of older people 
Sustainable design of the built environment
Publications

Edited books

Journal articles

Conference proceedings papers
Research group
Grants
Teaching interests

I am interested in teaching subjects about the environments of ageing.
Teaching activities

As a researcher, most of my teaching activities are informed by my research. I teach Research Techniques and Academic Writing on the Communications Module to undergraduate students. I also teach topics informed by my research on the MSc in Sustainable Architectural Studies course and deliver a range of skills development workshops on the School's PhD degree programme.
Professional activities and memberships

Member of the British Society of Gerontology
Member of the Gerontological Society of America
Member of AGE Platform Europe
Member of the UKRI Talent Peer Review College
Associate Fellow of the UK Higher Education Academy
Invitations

Apr 2017

International Guest Lecturing, Budapest, Hungary:
Invited to Budapest University of Technology and Economics to deliver a lecture to a group of 40 masters students studying Urban Design. Lecture topic: 'Growing old in a Global City: Barriers and Enablers of Active and Healthy Ageing'

Nov 2016

Mobilising the Potential of Active Ageing (MoPAct), Brussels, Belgium:
Invited to MoPAct Final Conference, as a professional stakeholder, at which the findings of the project were presented.

Sep 2016

OIKONET Project Final International Conference on 'Global Dwelling', Manchester, UK:
Member of the Scientific and Organising Committee. Peer-reviewed conference papers and co-edited conference proceedings.

Sep 2015

European Health Forum Gastein (EHFG), Gastein, Austria:
Invited to be a panel discussant at the annual conference of EHFG. Topic: Impact of health and longevity on the European ageing workforce.

Apr 2015

MoPAct, Tallinn, Estonia:
Invited as a professional stakeholder, to contribute ideas and offer guidance to support project remit.

Mar 2015

European Summit on Innovation for Active and Healthy Ageing (AHA), Brussels, Belgium:
Invited as a panel discussant to contribute ideas on how ICT and the built environment may support older people.

Dec 2014

AGE Platform Europe (AGE) Annual Conference, Brussels, Belgium:
Nominated by British Society of Gerontology to represent BSG at the annual conference of AGE.

Sep 2014

OIKONET Project First International Conference, Barcelona, Spain:
Gave a presentation on Contemporary Housing Research and Design.