Information on how to apply for a postgraduate taught masters course in the School of Architecture.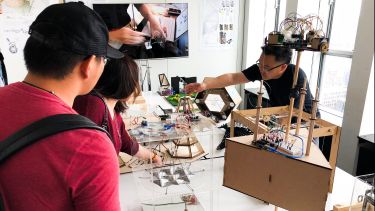 Off
Apply online
Our online application system allows you to complete an application form and upload associated documents.
Supporting materials
When applying, you will be required to submit the following documents via our online application system. You are not required to send any hard copies to the department.
Design portfolio
Personal statement of 200-300 words which should outline any relevant experience or expertise relating to the course and demonstrate your enthusiasm for this particular subject and the University of Sheffield
A CV and two references, with at least one academic
Transcript of previous university qualifications, with certified translation into English where appropriate
Please note there is 50mb file limit for all supporting documents
---
Design portfolio guidance
Your portfolio should include samples of work from previous or current education and employment. You can also add any other artistic or written work where appropriate. It should reflect the scope and variety of your training and experience with particular emphasis on your personal interests as well as your skills. A distinctive, original approach, or work that shows a clear insight into a subject matter will stand out. We welcome professional and cultural diversity and endeavour to treat every applicant on his or her individual merits.
Number and nature of projects
Please include:
Examples of your design and creative work or work from related fields
3-5 projects you have worked on
At least one single authored project
Your final or most recent project
Design work can include:
Design or planning projects
Concept sketches and/or diagrams, showing development of ideas, approaches, methods and how you organise your ideas
Finished drawings of original design or planning work
A written explanation of the problem, the goals and objectives of the project, overall concept, how the solution was reached
Research projects or publications
Extract of the material which gives a good impression of the overall project including the problem, the method and findings
Summary explanation of the objectives, findings and conclusions of the work
Whenever a project has been completed within a team please indicate your role and responsibilities.
Size and structure
Structure your portfolio with a clear sequence of pages and include a contents page, information sheets for every project, and explanatory text to give context. The portfolio cover should include your full name and contact information.
Do not exceed 20 MB
No larger than A4 and a maximum of 20 pages
No more than five pages per project
PDF format
Do not use the booklet format showing two pages per screen
Landscape layout suits our requirements best
Supporting information
For each project define:
Name and location of the project
Academic or professional
Individual or group work
Your role in the process and exact contribution to the project
Year/semester of your study in which the project was carried out
Date when the project was carried out
Name and e-mail address of the supervisor of the project
---
Course specific information
Depending on which course you are applying for, you should think about showing your skills in the subject area.
MA in Architectural Design

Short introductory paragraph telling us what inspires you, what challenges you aim to face through the work included in the portfolio and what is your cultural position
An understanding your skills, but also the way you critically look at the complexity of factors determining your individual creative process
A variety of techniques such as sketches, diagrams, hand drawings, 3D models, photographs and graphic-design work
Excerpts of your written work for example academic dissertation, design or research reports

MA in Urban Design

Graphic skills and use or different methods such as hand drawing, technical drawing, diagrams, photomontages, photography and scale models rather than just digital 3D visualisation
Self-driven explorations such as non-standard design experiences in workshops or summer schools, particular design themes, interesting design methods and forms of visualisation
Work at a variety of scales including building, public space, neighbourhood and landscape
The use of diagrams to explore the process of design, rather than focusing exclusively on design outputs
Some consideration of the 'human scale' in design and planning proposals, for example through analysis of the future users of an area or the inclusion

MSc in Sustainable Architecture Studies

An interest in contextual design issues, whether at the urban or building scale
An analytical drawing of site or building vicinity and contextual issues, either existing or proposed
A project at a small scale (a room, a dwelling) and one at larger scale (larger non-domestic building, urban scale, infrastructure etc)
One portfolio sheet showing precedents of buildings that you studied and that have inspired you in your design approach

If you are not from a design background you will be asked to submit a 1000 word paper previously submitted or newly written.*

*For 2020 entry onwards, we will require a design portfolio and will not be able to accept a written piece.
---
Staged Admissions
For MA Architectural Design, MA Urban Design and MA Sustainable Architecture Studies your application will be reviewed by a panel of academic selectors within the department of Architecture. As we receive a large volume of applications, the most being received between November and March, we will review and make decisions in stages at the following times:
| Stage | For applications received by: | We aim to return decisions by: |
| --- | --- | --- |
| 1 | 30 November 2022 | 7 January 2023 |
| 2 | 31 January 2023 | 27 February 2023 |
| 3 | 31 March 2023 | 29 April 2023 |
We will consider applications received after 31 March 2023 on an ongoing basis, if places are still available.
---