Snigdha studies on the MSc Digital Architecture and Design course and has written a blog about her experience on the studio field trip.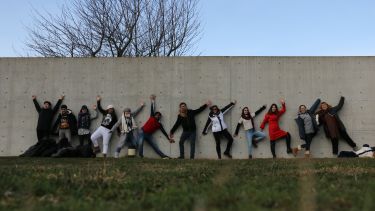 Architecture Studio Field Trip
Being part of The University of Sheffield has been a delightful experience especially when you belong to the architecture department, which is renowned as the best place to study. The atmosphere in our studios is so friendly it feels like you are hanging around with your friends, which is very helpful in making your studies more exciting.
Recently, I got the opportunity to take part in an architectural study field trip to France, Germany and Switzerland, organised by our tutors. Before starting the trip, they arranged a seminar with architecture professionals and engineers selected from the university who offered unique insights on the structures that we were going to visit.
This was a unique visit unlike any conventional trip to Europe. We travelled to historical and contemporary places. We enjoyed informative guidance and observations from experts and our tutors. We also participated in special excursions, acquired insider knowledge on popular work from world-renowned architects, as well as lesser-known, yet equally fascinating architecture. I explored and photographed these places and their architectural wonders with like-minded travellers.
After the trip, interactive sessions were organised by our tutors, where we were all given a chance to share our ideas and opinions on what we learned during the trip. What I like about the architecture course is that there is no preferential treatment by the tutors, as everyone is given an equal opportunity to express their thoughts and share them with their classmates. Through these field trips and communicative sessions, and with the real phase architectural designs and concepts explained by the tutors, your involvement in the course becomes very worthwhile for your development.
Besides the course, there are so many events going on during the year like street food and music festivals, and student fairs that always keep you engaged in different kinds of activities in the city of Sheffield. Additionally, the University campus is spread out in the city, so it makes you feel connected to it from anywhere at any time.
Even though I didn't get to visit Sheffield before accepting my offer, as soon as I arrived here from the airport I knew that I made the right decision. Thank you to the University of Sheffield and to the architecture tutors for the memories I will cherish for a lifetime.

Snigdha Khaneja

MSc Digital Architecture and Design