This page explains how to apply for a PhD using your own research project. Once you have received your offer you can use it to apply for funding. There is often a different process for projects which already have funding attached.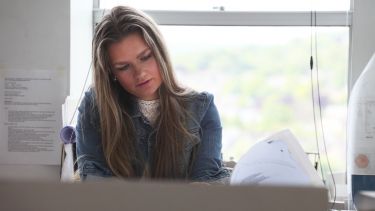 Check you meet the entry requirements
We require a good first degree and usually a masters in a topic related to the application, or MArch (RIBA Part 2 or equivalent). We also recognise the value of practice-based experience, and will consider candidates with substantial experience but less in the way of academic qualifications.
For candidates for whom English is not the first language or who do not possess a degree taught in the English language there are minimum English language requirements. If these have yet to be met, they will be made a condition of your offer.
IELTS (or equivalent): Average of 6.5 or above, with at least 6.0 in each component.
Find a supervisor
We encourage you to contact the member of staff that you would like to work with before you submit an application. It is particularly important to start discussions with your potential supervisor as early as possible, especially if you are planning on applying for funding. Early contact will give you plenty of time to work on your ideas for the research project and get your potential supervisor's advice on how to shape it into a strong proposal.
Approaching a prospective supervisor
Introduce yourself by email, providing information about yourself and your research topic. Be specific - if possible, send them your research proposal and your CV. Do not send emails indiscriminately to many members of staff. If the first person you approach is not available to supervise your project, they will forward your email to other members of staff.
Write a research proposal
Applications for admission to a PhD cannot be dealt with unless they contain a clear thesis proposal. Although students often alter their research topic slightly after arriving at Sheffield, a thesis proposal helps us to make sure that:
the topic is viable
the department can provide appropriate supervision and other necessary support
you have thought through your interest in and commitment to a piece of research
you are a suitable candidate for admission.
The process of producing a proposal is usually required for applications for funding to pay your fees or support yourself whilst completing your research. Funding bodies will often need to be reassured that you are committed to a viable project at a suitable university.
A proposal should contain the following:
Proposed thesis title
An overview of the topic and the main research aims and objectives
An explanation of why this topic merits research
A key research question or hypothesis
A brief review of any previous literature in the area, identifying links to your topic
The methods and methodologies for your proposed research. Details of how the research would be conducted, including any resources or special facilities which would be required, and any necessary skills which you either have already or would need to acquire
The anticipated outcomes of your research
A plan and timetable of work
A bibliography
In particular we will be reading the proposal to judge whether you can make a coherent argument for a feasible research project.
Apply online
You should normally have a decision within 8 weeks of your submission. In order to assess your application, we will require the following documentation:
A thesis proposal
Two letters of reference, at least one of which must be from an academic who can judge your ability to research and write, eg. a dissertation supervisor
Transcripts of previous qualifications
Your CV
An indication of how you intend to fund your studies
English language proficiency, if English is not your first language
Postgraduate online application form
We advise applicants to submit their PhD application at least 3 months prior to their proposed start date.
What happens next?
You will receive an email confirming receipt of your application and will be kept informed of any developments throughout the application process.
Your application will be checked to ensure you meet the entrance criteria, and that all the required documents are attached
Your research proposal will be checked using plagiarism-detection software
If you have suggested supervisors, your application will be sent to them for review. If you have not suggested any supervisors, your application will be sent to the postgraduate research director to identify potential supervisors
The proposed supervisors may request revisions to your research proposal. You will be given 3 weeks to make these changes
Once two supervisors have given feedback, are interested in supervising your project, and are happy with your proposal, you will be invited to interview
If the interview is successful you will receive an offer of a place
For successful applicants, the formal offer letter will name a supervisor but this might change. Changes are rare but will be made on arrival in the School of Architecture.
Please note that an offer of a place does not constitute an offer of funding to support your research. The page on Fees and Funding provides information regarding sources of funding, which cover fees and maintenance.
Funding
Once you have received an offer you can use it to apply for PhD funding. The University of Sheffield scholarship competition closes in January each year, but there are a wide range of other funding opportunities available.
White Rose Social Sciences Doctoral Training Partnership Studentships 2021/22
Nominations are now open for White Rose Social Sciences Doctoral Training Partnership (WRDTP) Studentships commencing in October 2021.  If you are interested in studying for a PhD in the School of Architecture, you are eligible for nomination by your supervisor to the WRDTP Studentships.

Find out more