Space, cultures and politics
This group supports research into the socio-political dynamics and implications of space production. Researchers operate across different scales, contexts, and cultures, with varied methods and expertise.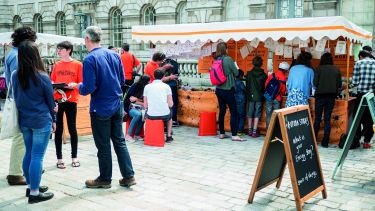 About us
Research in this group is geographically distributed, paying particular attention to east-west exchange, spatial production in the global south as well as closer to home, and is historically wide-ranging. The group has a shared interest in urban production and urban transformation processes.
The group comprises a number of significant research teams, which draw upon a range of attitudes, interests and methods including:
Critical Historiography: Critical approaches to the official history of architecture, focusing on the overlooked, on revisionist histories of Modern Architecture, and on critical historiographical methodologies
Conservation and Regeneration: With concerns regarding time, managing change, heritage and memory
Urban (Hi)Stories: Visual and material cultures, mediating and exhibiting architecture
The focus of research undertaken varies significantly, from incidental and temporary installation work to regional planning, and across a broad geographical and historical spectrum.
Our Space, Cultures and Politics researchers have expertise in reuse of abandoned places, architectural history, urbanism and mediation of architecture.
---
Group members
Emma Cheatle
Luis Hernan
Irit Katz
Florian Kossak
Jo Lintonbon
Krzysztof Nawratek
Xiang Ren
Renata Tyszczuk
---
Featured projects
Culture and Climate Change
Supported by UK Research Councils, funding bodies, charitable trusts, the University of Sheffield and the Open University
Culture and Climate Change is a framework for a series of research and public engagement projects on climate change. We convene research projects, workshops, exhibitions, events and publications that invite contributions from leading researchers, artists, producers, journalists and policymakers. All of our work tends to be collaborative, interdisciplinary, experimental and 'in public'. We want all of this work to contribute to a more dynamic and plural conversation around climate change.
Towards radicalpostsecular urban theory
The project critically reviews urban post-secular theory inspired by Jurgen Habermas' intervention in the early 21st century. This theory was formulated in a general framework of post-Enlightenment and liberal thought. This 'liberal' postsecular urban theory is not (or no longer) answering fundamental challenges that contemporary cities are facing - both political and environmental. Therefore this research proposes radicalization of post-secular urban theory, which goes beyond post-enlightenment and liberal frameworks.