Building strategic partnerships with industry: Tinsley Bridge and the University of Sheffield
The University of Sheffield and engineering manufacturer Tinsley Bridge have collaborated on numerous projects and initiatives. This mutually beneficial relationship has supported skills development while driving innovation and technology adoption.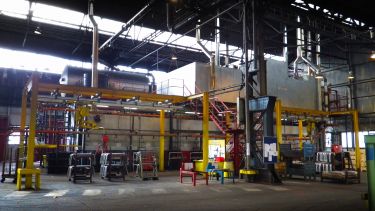 Academic-SME synergies for a technology revolution

 
The UK government aims to put the UK at the forefront of the global technological revolution, boost productivity and secure economic growth. This can only be achieved by close collaboration between our world-leading universities and innovative businesses. 
The University of Sheffield has a long-standing relationship with engineering manufacturer Tinsley Bridge, which makes key components for several sectors including automotive, nuclear, rail, defence and energy. 
There are multiple touchpoints between Tinsley Bridge and the University that have had demonstrable impact, including: 
Joint training of industry-savvy graduates through the Sheffield Engineering Leadership Academy (SELA)

Production of lightweight components for Tinsley's transport clients (with the University of Sheffield's Advanced Manufacturing Research Centre (AMRC))

An innovative collaboration pioneering the use of digitalisation technology in the factory floor
Creating the next generation of engineering leaders

 
Talented engineers are being equipped to tackle the future challenges of industry, including at companies like Tinsley Bridge. For this to happen universities and industry must work together. One successful way that the University has done this is through the Sheffield Engineering Leadership Academy (SELA). Here the University connects industry partners with students – through speaking engagements, work placements, skills training and mentoring. Tinsley Bridge has been involved in all of these activities and Alex Kelly, Technical IT Manager at Tinsley Bridge, has acted as mentor on the SELA programme. He says:  
The students come with some really great ideas, and we try to really ground that within the reality of industry through exercises and projects – where they are dealing with actual data from the factory floor. Often that data isn't complete, it can be 'dirty' and so requires them to really think about how to handle it rather than just run an algorithm on it.  

The nature of written university curriculums necessarily means that they can become outdated quite quickly; but through SELA, students can look to the future of the industry, that hasn't been written yet. That kind of thinking from our graduates is what we need in industry.

Alex Kelly

Technical IT Manager, Tinsley Bridge
SELA students working at Tinsley Bridge have demonstrated a practical project around the industrial Internet of Things (IoT) which was shortlisted in the Sheffield Digital Awards for the Best Use of Technology in Industry. 
The team developed a low-cost prototype, incorporating both data acquisition and transmission, to provide a real-time information dashboard monitoring machines on the factory floor.
It is fantastic that this project has demonstrated a successful model for digital adoption in Sheffield, with higher education, the city region, and a SME manufacturer working together to drive innovation towards a more competitive industrial sector.

Dr Gary Wood

Head of SELA
Due in part to this focus on industrially-relevant skills, Tinsley Bridge has also employed University of Sheffield graduates through the RISE scheme. This was established with the aim of improving retention of talent within the Sheffield City Region by networking graduates with SMEs.
Helping to stay ahead of the technology curve 

 
Research and Development (R&D) is a critical consideration for any company seeking to drive innovation and expand into new markets. Indeed the UK Industrial Strategy (published July 2016) encompasses a target to increase R&D investment to 2.4% of GDP by 2027. In that respect Tinsley Bridge's relationship with the University of Sheffield's Advanced Manufacturing Research Centre (AMRC) has been critical.  
Recent collaborative projects have involved virtual reality modelling, materials testing, advanced machining, computer simulation of manufacturing processes, suspension technology and non-destructive testing (NDT). 
Tinsley Bridge has worked with the AMRC on the manufacture of an innovative high performance composite stabiliser bar for heavy commercial vehicles with less than half the weight of current products on the market.  
Working with the AMRC expands our R&D capability and makes a significant contribution to new product innovation. It creates a powerful collaboration by connecting academic knowledge and the specialist facilities of a leading research institution with our internal innovation programmes. This de-risks and reduces time to market of new products targeted to create competitive advantage in global markets. 

The AMRC have a great external focus and are able and willing to help industry engage in cutting edge R&D that would be otherwise impossible for an SME engineering company

Mark Webber

Managing Director, Tinsley Bridge
Place-based initiatives for networking
Building a supportive ecosystem around Sheffield is also important to facilitate technology adoption. Mark is a member of MD Club, a forum set up by the University of Sheffield and Sheffield Hallam University, for regional business leaders and academics to exchange knowledge and ideas for future partnerships. He has also spoken at events run by the Sheffield Innovation Programme (SIP) – jointly run by University of Sheffield and Sheffield Hallam University and Sheffield City Region Growth Hub – about his experiences and knowledge on digital-manufacturing collaboration and the importance of digitalisation for survival.  
Tinsley Bridge has also contributed to workshop meetings and interviews at the Regional Technology Foresight. This is a two year project led by the University of Sheffield looking at identifying future technologies for the advanced manufacturing and materials sectors in the Sheffield City Region. Working with stakeholders it aims to find the best ways to exploit these technologies as well as developing a practical toolkit for other regions to adapt to their needs. 
Exploring the power of digitalisation 

 
Pitch-In is a knowledge exchange project focused on adoption of Internet of Things (IoT) technologies across UK industry by developing collaborations, overcoming challenges and sharing best practice.
Led by the University of Sheffield (working with the Universities of Newcastle, Oxford and Cambridge) and funded by Research England it is helping to build the foundations for regional collaborative ecosystems. 
The University of Sheffield and Tinsley Bridge have worked together on an innovative project, supported by Pitch-In, to trial an IoT solution to enable automated predictive maintenance on the factory floor. Here, a suite of sensors can continuously monitor and report on the working condition of equipment, flagging issues before they arise. This has the potential to prevent costly unscheduled downtime. 
"What we're aiming for is to automate the whole process," says Alex Kelly, Technical IT Manager at Tinsley Bridge. "If we can collect the data more frequently we can understand the machines better." 
Dr Boyang Song, Research Associate in Industrial Internet of Things (IIoT) & Machine Learning at the University of Sheffield, explains:  
We can now share our experience with the industrial community, so they can have the confidence to go forward with digital transformation and they know how to do it. Before this project, it was mainly research in the lab, certainly not a full demonstration of an end-to-end solution in the factory floor.

Dr Boyang Song

Research Associate, University of Sheffield
The relationship between Tinsley and the University of Sheffield continues to evolve as they explore the potential of new technologies together, also ensuring the next generation of engineers is well-versed in their application. By sharing these experiences with other SMEs and academic groups, it can help to build a supportive ecosystem and ultimately a creative region known for its innovative practices.