Chemical engineering at the University of Sheffield ranked in the top five for student satisfaction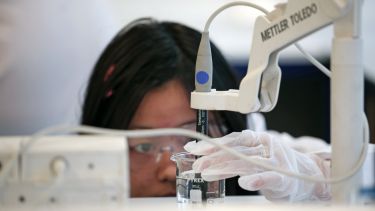 Students have voted the University of Sheffield's chemical, process and energy engineering (CBE) courses as some of the best in the country for satisfaction, according to the latest National Student Survey (NSS).
This year's 2022 survey results show that 90 per cent of students are satisfied overall with CBE courses at the University, with this being top five in the UK and second in the Russell Group, the association of leading UK research-intensive universities. 
CBE courses also ranked highly for learning resources, with 92 per cent of students satisfied, while 88 per cent of students are satisfied with organisation and management.
"I am incredibly proud that we are now 2nd in the Russell Group for student satisfaction. This has come about due to the innovative and hard work of our team," said Professor Joan Cordiner, Head of the Department of Chemical and Biological Engineering.
Other courses across the Faculty of Engineering that ranked among the best in the country are: materials science, aeronautical and aerospace engineering, mechanical engineering, materials technology, production and manufacturing engineering and computer science, which all ranked number one in the Russell Group
The annual league table has shown that overall satisfaction among University of Sheffield students across all faculties is two per cent above the national sector-wide average. The award-winning Students' Union also saw a score that is 15 per cent above the sector average for satisfaction, which places it first in the Russell Group.
Professor Cordiner added: "We have passionate research-led teaching that students really respond to, along with using a variety of innovative teaching methods. Listening to student feedback and suggestions has helped us to improve our programme. 
"The CBE team are a real pleasure to work with. They have worked long hours over the past two years pivoting to online and back and giving incredible support to our students."
Explore the University
Discover why Sheffield is the right choice for you at one of our open days or events.