Department ranked top five in the UK Russell Group for student satisfaction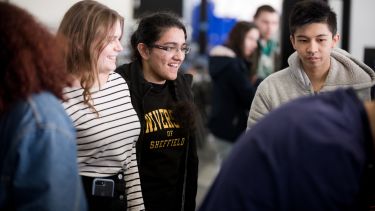 The annual survey asks students for their views on key aspects of their University experience including learning and teaching, assessments and feedback, academic support, learning resources and the Students' Union.
The survey also shows overall satisfaction among University of Sheffield students is nearly three per cent above the national sector-wide average, placing the University fifth overall in the Russell Group, the association of leading UK research-intensive universities.
Responding to the results Head of Department for Chemical and Biological Engineering said Professor Jim Litster said:  
"We're incredibly pleased to see our students react so positively in the NSS, in what has been an unsettling year for all. This response reflects the tremendous efforts of our academic staff who have faced many obstacles over the last few months to continue delivering an outstanding student experience. 
I must also thank all of our staff, from technical to professional services for their extraordinary work in supporting our students - and I am also thankful to our students who have completed the survey, we've received a wealth of input that we can now use to guide our future work across the department." 
The results show the University of Sheffield's award-winning Students' Union also performed well, with satisfaction 18 per cent above the sector average, placing it first in the Russell Group and third among Students' Unions nationally. This follows last week's accolade in which the Students' Union was awarded the Whatuni Student Choice Award for Best Students' Union for the fourth consecutive year.
The Department of Chemical and Biological Engineering is also ranked number 1 in the UK for Research Environment and top 5 in the UK for Chemical Engineering output (REF 2014).