Five new academics to join the department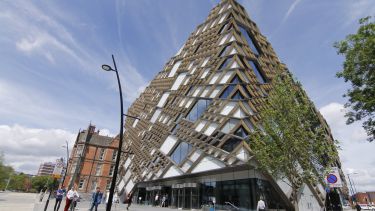 Adam Brown is well known to the department in his current position as research fellow in the Advanced Biomanufacturing Centre. He is a biological engineer with a primary research focus on DNA engineering with application in synthetic biology and biotechnology.
Professor Corr joins the department from the University of Glasgow.  She is also Associate editor of RSC Nanoscale (2013 – present) and was awarded her PhD from Trinity College Dublin. Her research group focuses on the design, synthesis and full characterisation of functional nanomaterials whose applications include insertion electrodes for energy storage, biomedical diagnostics and therapeutics and electronically responsive materials. Using a variety of synthetic approaches and a range of characterisation techniques spanning electron microscopy, X-ray diffraction, physical property measurements and local structure probes, the group is particularly interested in understanding the intimate structure-property interplay in functional nanomaterials.
Dr Eddie Cussen  
Dr Cussen joins the department from the University of Strathcylde. He obtained his degree in Materials Chemistry at the University of Nottingham in 1995. He then moved to the University of Oxford to study for his doctorate under the supervision of Dr Peter Battle. After carrying out postdoctoral research with Prof. Matthew Rosseinsky at the University of Liverpool Eddie was awarded a Royal Society University Research Fellowship in 2002. He initially held this at the University of Nottingham before taking up a Lectureship in at Strathclyde in 2006. In 2010 he was promoted to Senior Lecturer.  His research examines the structural and bonding arrangements that underpin a diverse range of properties of complex crystalline solids.
Dr Moghadam joins the department from the University of Cambridge. His current role is Senior Research Associate in the of Department of Chemical Engineering and Biotechnology where he has been since 2015. His research interests concern the study of the molecular mechanisms that control adsorption processes in porous materials and the design of new porous systems based on metal-organic frameworks (MOFs). We aim to exploit the new opportunities these materials can offer compared with classical ones. We are particularly interested in drug delivery systems, where nanotechnology has the potential to revolutionise cancer diagnosis and therapy. We are also interested in the use of novel porous materials for energy-efficient applications, including carbon capture and storage (CCS) and hydrogen purification.
Dr Nedoma graduated with the highest distinction from the University of Florida in 2004 with a bachelors degree in chemical engineering. She completed her PhD at the University of California, Berkeley in 2010, using small-angle scattering techniques and thermodynamic models to examine the nanostructure of blends comprising block copolymers. Alisyn was awarded a Junior Research Fellowship at Imperial College London (2011–2014) to pursue the development of block copolymer–based plastic solar cells. She joined the Department of Chemical and Materials Engineering at the University of Auckland as a lecturer in 2016.  Her research interests include; Phase behaviour and kinetics of block copolymers in supercritical CO2, scaled-up processing of plastic electronics, development of reactor-to-reel continuous processes for nanomaterials, competition between crystallisation and phase separation in soft matter composites, nanostructure formation in all-conjugated block copolymers. 
"We've attracted some exceptional candidates. With the appointment of our new academic staff we'll see our teaching and research programmes continue to grow and flourish. It is going to be a very exciting year for CBE."

Head of Department Professor Jim Litster
A world-class university – a unique student experience
Sheffield is a research university with a global reputation for excellence. We're a member of the Russell Group: one of the 24 leading UK universities for research and teaching.